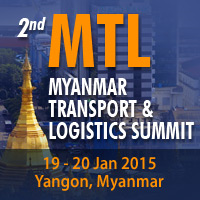 The 1.5 day summit features a keynote address by His Excellency U Nyan Htun Aung, Union Minister of Transport, Myanmar, who will be joined by senior delegation of officials from several Myanmar ministries.
Yangon, Myanmar (PRWEB) December 03, 2014
The 1.5 day MTL summit opens with a keynote address by His Excellency U Nyan Htun Aung, Myanmar Union Minister of Transport, and will also see a delegation of senior officials from other Myanmar ministries.
Among the top ministerial sessions are:

Update on Thilawa SEZ Project including the logistics center development – Thilawa Special Economic Zone Management Committee
Implementation of an Integrated Transport Master Plan and Project Roll-Out Status – Transport Dept., Ministry of Transport
Airports & Aircargo Infrastructure Development Plans – Dept. of Civil Aviation, Ministry of Transport
Development of Rail Infrastructure Projects in Myanmar– Ministry of Rail Transportation
Seaports, Terminals & Inland Depot Development Plans – Myanma Port Authority
Construction of Road & Bridges in Myanmar – Public Works, Ministry of Construction
Modernisation of Myanmar's Customs & Improvement to Clearance Process – Myanmar Customs Dept.
Meanwhile the speakers from the private sector include representatives from Pepsi Co., Myat Myittar Mon Company, Damco, KOSPA Cold Chain Logistics and Savvy Logistics. These senior executives will address key areas such as – Distribution Networks Management, Oil & Bulk Liquid Storage Terminals, Cold Chain Logistics and more. Further the finance roadmap for transport and logistics will be shared by IFC, Overseas Private Investment Corporation and GE Equity.
VDB Loi joins the summit as an associate sponsor while KOSPA Cold Chain Logistics as an exhibitor.
Visit the conference website for more details or contact Ms. Huiyan at +65 6346 9113.