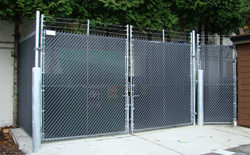 Aluminum fencing is relatively maintenance free, lightweight and durable product
Vancouver, BC (PRWEB) December 02, 2014
QS Fencing now introduces aluminum fences for a variety of different uses, ranging from sundeck, balcony, pool side and staircase fencing. These fences are light-weight and durable and require little to no maintenance. QS Fencing Company's aluminum fencing is of one of the highest qualities available in the market. Covered in a low maintenance powder coat, the company's aluminum fencing can be made free from rusting, rotting or repainting.
"Aluminum fencing is relatively maintenance free, lightweight and durable product. An aluminum fence is ideal for a sundeck, balcony, pool or staircase. It can be used as an effective perimeter around your pool, or to enclose your pets in the yard. An aluminum fence can add great curb appeal to your home by enhancing the front of your property or driveway," states a company representative. "Our number one concern is our customer's satisfaction with our service and products. QS Fencing offers hassle free aluminum fence installation, gate or repair service. You can count on QS Fencing for excellent customer service, with aluminum fence installation and repairs done by our experienced staff dedicated to your needs."
Vancouver fencing company, QS Fencing, will work with customers to determine the type of aluminum fence they need. The company also specializes in repairing existing fences. QS Fencing helps customers implement the best fence solution to ensure that they pick the right aluminum posts, rails, pickets, and spacers to suit their property and budget.
About QS Fencing
Established in 2010, QS Fencing is a young family-owned business that aims to provide quality products and superior service. It is a Vancouver Fencing Company that is licensed and insured. All their employees are WCB insured as well. QS Fencing serves the geographical areas of Vancouver, West Vancouver, North Vancouver, Burnaby, New Westminster, Coquitlam, Port Coquitlam, Port Moody, Maple Ridge, Richmond, Surrey, and Delta, BC.
To place an order at QS Fencing, visit http://www.qsfencing.ca or call (604) 345-5145.