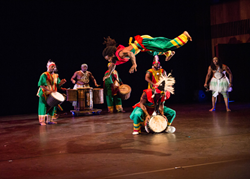 CHICAGO, IL (PRWEB) December 02, 2014
Muntu Dance Theatre of Chicago will celebrate the holiday season with the performance of "Lest We Forget" – an historical anthology of movement, music, and memories depicting the stories of many blended into one. Like the patchwork quilts of the past, each piece adds to the story of trials, tribulations and the ability to persevere.
The four-day benefit and concert series will be held at the Reva and David Logan Center for the Arts, 915 E. 60th Street, Chicago. The concert series will consist of two student matinees on Thursday and Friday, December 11 and 12, at 10:30 a.m. with selected pieces performed.
The benefit reception dinner takes place on Saturday, December 13, at 6:00 p.m. The concert will begin immediately following the reception at 7:30 p.m. Dr. Timuel Black, former Chicago teacher and activist, will be honored with Muntu's 2014 Alyo Award for Outstanding Service to the Arts. The concert series will end with a final performance at 3 p.m. on Sunday, December 14. New this year, Muntu's very own company members Amansu Eason, Naomi Kinslow and Stacy Smith will unveil the world premieres of stirring new works presenting pieces that exhibit grace and skill as true choreographers in their own right.
Muntu Dance Theatre of Chicago was founded in 1972 with the understanding that African art forms should not simply be performed, but presented to audiences in an inclusive and informative manner. Now in its 42nd year as the nation's longest operating African dance company, Muntu has evolved not only by providing high-quality performances, but also contributing greatly to arts education initiatives throughout Chicago. For more information, visit http://www.muntu.com.