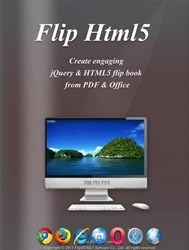 (PRWEB) December 01, 2014
With a growing global customer base that includes top companies such as IBM, Xerox and Dell, FlipHTML5 online publishing company have improved their service to provide an even better user experience for new and existing clients. The recent upgraded platform provides several improvements that are designed to simplify the conversion of documents such as PDFs, Office files, Text files and images into interactive, flippable catalogs, brochures, magazines and eBooks.
Currently available for download to users of Windows and Mac computers, free of cost, the digital publishing software provides a range of advanced features which promote increased accessibility, visibility and the ability to share publications online. Users can now create realistic and responsive CSS3, jQuery and HTML5 flipbooks, embedded with video and audio, along with animation. They can either convert their own documents or create from scratch using a number of HTML5 templates available online and are able to add custom banners, brand logos and subscription services to their content.
All publications run on any mobile or desktop device, including Apple, Android and Windows products. Additionally, the process of uploading content has been made quicker, regardless of the size of the document and content providers can now manage their publications much better with a realistic and user-friendly digital bookcase. In fact, users can have as many bookcases as they like, which can be embedded to their websites and allow their readers to have access to all their publications. The upgrades to the software are expected to heighten satisfaction in new users of FlipHTML5 and those who may already be impressed with the product.
"I need to do a lot of presentations to my customers for business, and I am always hoping to find a way to present my document better than the PDF. The HTML5 flip solution provided by FlipHTML5 is more than I expected, I needn't to worry about the problem of compatibility anymore," said Stefanie Agnes.
The upgraded FlipHTML5 online digital publishing software is now available for free download to both Windows and Mac users from the company's website.
About FlipHTML5
FlipHTML5 Software Company is a leader in the provision of digital publishing software, which are designed with the latest web technologies. They strive to help digital publishers reach audiences more effectively with innovative, low cost solutions.
More information about their upgraded FlipHTML5 e-Publishing platform can be found by visiting: http://fliphtml5.com/features.