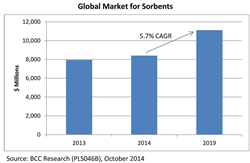 Wellesley, MA (PRWEB) December 01, 2014
BCC Research reveals in its new report, Absorbent and Adsorbent Materials: Global Markets, the demand for comfort and hygiene products in emerging economies is driving strong expansion in the market, with growth of $11.1 billion expected in 2019. Additionally, the rapidly advancing emerging economies, which are mainly China and India in terms of both economy and population, have significantly increased the demand for sorbents over the past five years.
With an increasing number of start-up and small companies in the Asia-Pacific region, outsourcing of sorbents is rising with new manufacturing facilities. The area is expected to grow at a five-year CAGR (2014 to 2019) of 7.5%, with sales of $4.1 billion by 2019. This will not be the case with the North American and European markets that are predicted to advance at lower rates of 5.7% CAGR during the forecast period.
"China accounts for about 20% of the overall diaper market in terms of volume growth," says BCC Research analyst Aneesh Kumar. "Moreover, the seven emerging markets (China, India, Indonesia, Malaysia, Brazil, Turkey and Egypt) combined are anticipated to account for more than 60% of the surge of the global market for baby diapers and pants in terms of volume."
This significant growth can be attributed to factors such as super absorbent polymers (SAPs) role in minimizing environmental waste and regulating the levels of chemicals in the air and water with applications in industries leading to higher efficiency.
Absorbent and Adsorbent Materials: Global Markets covers many different types of absorbent polymers and adsorbents used globally in various types of applications. The market is broken down by major type of sorbent, region, application and material type. The overall market for sorbents is also estimated by type, regional market and material type. Revenue forecasts from 2014 to 2019 are given for each major type of absorbent polymers and adsorbents, including their applications and regional markets.
Editors and reporters who wish to speak with the analyst should contact Steven Cumming at steven.cumming(at)bccresearch(dot)com.
About BCC Research
BCC Research publishes market research reports that make organizations worldwide more profitable with intelligence that drives smart business decisions. These reports cover today's major industrial and technology sectors, including emerging markets. For more than 40 years we've helped customers identify new market opportunities with accurate and reliable data and insight, including market sizing, forecasting, industry overviews, and identification of significant trends and key competitors. We partner with analysts who are experts in specific areas of industry and technology, providing unbiased measurements and assessments of global markets. Our clients include the top companies in industries around the world as well as universities, business schools, start-ups, consulting firms and investment companies. Visit our website at http://www.bccresearch.com. Contact us: (+1) 781-489-7301 (U.S. Eastern Time), or email information@bccresearch.com.
Data and analysis extracted from this press release must be accompanied by a statement identifying BCC Research LLC, 49-2 Walnut Park, Wellesley, MA 02481, Telephone: (+1) 781-489-7301; Email: editor(at)bccresearch(dot)com as the source and publisher. Thank you.