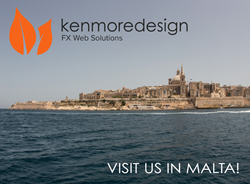 "Working with brokers, traders, and technology providers in the Forex industry is essential for inventing new products and improving existing ones. The new location will also enable us to better serve our customers"
Boston, MA (PRWEB) December 02, 2014
The new office's strategic location and proximity to its vital markets will enable Kenmore Design to better serve its current customer base while offering its services to a new host of financial professionals. Forex web services provider Kenmore Design is looking forward to expanding by hiring local talent, building upon their experience and connections.
"My involvement with Kenmore Design and long-term experience in FX and related industries tell me that we made the right choice and I'm proud to represent the company on this beautiful island only a couple hours away from Europe, Africa and Middle East" – said Kaveh Abbasi, Strategic Account Manager in Malta.
Kenmore Design has ambitious plans for 2015 that are yet to be announced but the new location will surely play a significant role.
Kenmore Design CEO Alex Sherbakov says, "Working with brokers, traders, and technology providers in the Forex industry is essential for inventing new products and improving existing ones. The new location will also enable us to better serve our customers".
Kenmore Design chooses to open an office in Malta as it is unique among its EU counterparts in terms of its economic resilience and flexibility. Malta's ability to react quickly to international trends and the global market place has led to a boom in foreign investment and capital. According to the European Commission, the Maltese economy has a "robust" growth outlook, making it the ideal place for Kenmore Design to continue to provide quality services in a stable environment.
About Kenmore Design 
Kenmore Design is a recognized name and a comprehensive leader in Forex web design and Forex web development. The Boston-based developer is primarily known for its Trader's Room, a web-based portal that combines web tools for both traders and brokers.  Among them services that enable various FX Strategies: MT4 website integration, Forex CRM, Social Trading, Multi Level IBs, and much more. Learn more about Kenmore Design at http://www.kenmoredesign.com.