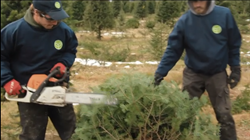 Palma de Mallorca (PRWEB) December 01, 2014
Greenwood Management has announced the success of its first harvest of Christmas trees from the companies forestry projects originally developed back in 2008.
At the start of the project Greenwood Management announced that it would look to develop several properties within the province of New Brunswick, Canada with a view of developing these properties into a number of full time Christmas tree farms.
Since the project inception in 2008 the company has tirelessly continued to develop this project over the years and has worked hard in order to create suitable demand for its farm grown Christmas trees from retailers located across Canada and the United States.
This has since led to 2014 becoming the first year that the project has harvested farm grown Christmas trees and successfully supplied retailers within both Canada and the USA.
This year has seen a huge demand for the companies farm grown Christmas trees, which has resulted in the company having to refuse approximately 50% of the inquiries received from retailers, due to the demand outstripping the company's available supply.
Alongside the project seeing a stronger demand for trees than expected, wholesale prices have also so far been exceeded. This has been a result partly due to the Canadian Dollar / US Dollar exchange rate, alongside higher than projected prices having been received for individual trees.
Greenwood believes that the success of its first project shows concrete evidence of the tireless work undertaken by the company over the years, developing this project and also in developing an appropriate exit strategy in order to provide success for this project.
The company also believes that the success of its first project is a good indicator of the future success of the company's other projects located both within Canada and Brazil.
In February Greenwood will be publishing a full set of independent results showing in detail the success of the project.