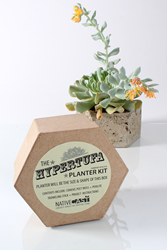 These gift ideas add a special touch for the holidays and continue to spread joy long after the holidays are gone.
Philadelphia, PA (PRWEB) December 01, 2014
Thanksgiving is right around the corner and for shoppers that means more than just family and turkey. But don't be overwhelmed, these green Cyber Monday deals make shopping simple.
Surprise someone special with a unique gift from eco-concrete container maker, NativeCast and online bulb company, Longfield Gardens. They are offering their usual great gifts at top deals.
"Whether treating yourself or a friend, start the shopping season off with a personalized gift," says Katie Dubow of Garden Media Group, a public relations firm specializing in the gardening and outdoor lifestyle industry. "These gift ideas add a special touch for the holidays and continue to spread joy long after the holidays are gone."
From Longfield Gardens' beautiful indoor flower bulbs to specialty containers from NativeCast, there is a gift that will complement any space.
NEW NativeCast's Cast Your Own Container with Seeds or Bulb Kit ($20)
On December 1, NativeCast is offering 20% off an entire order with coupon code CYBER14.
Crafters will love this Hypertufa DIY kit. It uses NativeCast's custom eco-concrete and vermiculite and peat moss, too. Together, hypertufa mimics the texture, drainage and color of rock without any of the weight or fragility. Everything needed to create your own tabletop hypertufa planter is included.
If the Hypertufa isn't quite your style, check out NativeCast's page which features the finest home and garden gifts, all crafted from environmentally responsible, lightweight, durable green concrete and other recycled elements.
Don't forget, the code CYBER14 is applied to the entire purchase. Visit http://www.nativecast.com for more DIY shapes, décor accents or planters.
Amaryllis and Paperwhite bulb kits ($16.95-$64.95)
Who doesn't like free gifts? Today, receive one 34/36cm amaryllis Red Lion bulb with every purchase from Longfield Gardens.
Longfield Gardens customizable holiday gift sets make great hostess gifts. Gift givers can mix and match indoor flowering bulbs with a wide range of decorative containers, ranging from $16.95-$64.95. Simply choose from the wide variety of stunning amaryllis or paperwhite bulbs and choose the right kit. These bulbs are so simple to grow.
Bulbs will bloom 4 to 8 weeks after planting and flowers will open wide to show off their striking coloration. Visit http://www.longfield-gardens.com to learn more.
If these products aren't exactly what you are looking for, don't worry! The end of the season is a great time to get discounts on outdoor furniture, grills and garden tools. Check the local garden center or hardware store for deals.
Garden Media specializes in home and garden, horticulture, outdoor living, lawn and landscape industries, offering innovative PR campaigns designed to secure top media placements and partnerships. For more information visit: http://www.gardenmediagroup.com