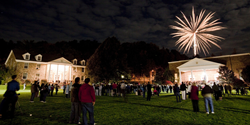 Houghton students graduate with an average debt load of about $5,000 less than the national average
Houghton, NY (PRWEB) December 01, 2014
Teaming with U.S. News & World Report, Christian Universities Online (CUO) named Houghton College in the top 30 percent of institutions that excel in keeping the debt burden of their graduates as low as possible.
Houghton College is ranked 18th among national Christian institutions that leave their students without financial burden. CUO Measured the average total indebtedness of the 2013 graduating class and the percent of graduating students who borrowed, using gathered data from U.S. News & World Report.
As the first and only college in the eastern United States to offer a Loan Repayment Assistance Program (LRAP) at no additional charge to all incoming first year students in the 2014–2015 school year, Houghton College has demonstrated its commitment to further decrease students' debt burdens.
The LRAP assists or completely repays a student's loans after graduation when he or she earns less than $38,000. If a student earns $20,000 or less, the LRAP would reimburse 100 percent of the loan payments until the loan is paid in full or that graduate begins to earn a higher salary.
"Houghton students graduate with an average debt load of about $5,000 less than the national average," said Marianne Loper, director of student financial services at Houghton. "Houghton sees the LRAP as a significant and important investment to make on behalf of our students."
Understanding the long-term impact that excessive student loan debt has on today's graduates, Houghton College has been recognized for its commitment to helping students and families pursue a distinctly Christian education while making the best use of their finances.
With 130 years of excellence in liberal arts education, Houghton consistently strives to demonstrate to prospective students that an education at Houghton is both a possible and worthwhile investment in their future.
CUO is an independent online resource for students and families researching rankings and reviews of the best Christian colleges and universities.