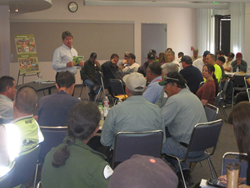 Lively, informative, and educational
Chattanooga, TN (PRWEB) December 01, 2014
PlayCore, a leading designer, manufacturer, and marketer of a broad range of play and recreation products, will be hosting a complimentary Continuing Education Symposium in Phoenix, AZ, on Thursday, December 11, 2014. Presented by PlayCore's Center for Professional Development, the event will include sessions that illustrate best practices for planning, purchasing and protecting surfacing investments, as well as prevention maintenance.
The event beginning at 8:45 a.m. Arizona Time and held at The Reference Library is designed for professionals in the fields of park and recreation, landscape architecture, and education. Sponsored by Robertson Recreational Surfaces (makers of TotTurf), the sessions will be led by Richard Hawley, President of the International Playground Manufacturers Association and VP of Sales, Robertson. The sessions offer Continuing Education Units for professionals and promise to be lively, informative, and educational. Continental breakfast and educational resources will be provided.
To reserve a space or for additional information, please contact Louise Rehse at 602-258-7499 or louise at thereferencelibrary dot com. The address of The Reference Library is 99 East Virginia Avenue, Suite 140, Phoenix, AZ 85004.
For information on how to bring PlayCore's leading Educational Symposiums to your professional network, or to review a list of available session topics, visit http://www.playcore.com/cpd
About PlayCore
PlayCore helps build stronger communities around the world by advancing play through research, education, and partnerships. The company infuses this learning into its complete family of brands. PlayCore combines best in class planning and education programs with the most comprehensive array of recreation products available to create play solutions that match the unique needs of the each community they serve. Learn more at http://www.playcore.com
About Robertson Recreational Surfaces (makers of TotTurf)
Robertson started in Arizona in 1991 and the product was used primarily for pool deck installations in commercial and residential applications. It was the Americans with Disabilities Act (ADA) and the Consumer Product Safety Commission (CPSC) regulations that propelled us into the playground world to help provide the ultimate in accessibility, while meeting safety guidelines. We offer a wide variety of recreational surfacing options to help our customers meet their site specific needs. To learn more about Robertson Recreational Surfacing, visit http://www.totturf.com or call 800.858.0519.