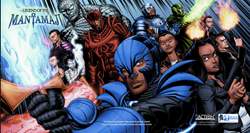 Throughout Monday, Legend of the Mantamaji fans can pick up the signed collection either as a gifts or for themselves. Comic book and graphic novel readers are always looking for something different and special to add to their collection.
Los Angels, California (PRWEB) December 01, 2014
Comic book and graphic novel fans - and the people who love them - have a new hit to add to their CyberMonday shopping: TV director Eric Dean Seaton's hit graphic novel series, "LEGEND OF THE MANTAMAJI." The three book series has two holiday exclusives - two bundle pricing and every book purchased through December 20, 2014 is autographed by Eric Dean Seaton himself. The collectable bundles and autographed copies are only available through the Legend of the Mantamaji website.
Comic book fans are able to scoop up the last two books in the series ahead of their publish dates (December 10, 2014 & February 11, 2014). Previously, the only way to get all three books ahead of their release dates was to attend one of the popular comic book conventions Seaton has attended including, San Diego Comic-Con, Stan Lee Comikaze, New York Comic Con and Long Beach Pop Culture and Comics Expo.
"So many fans aren't able to make it to the comic conventions, but show so much enthusiasm for the books, I wanted to make sure they could get their hands on them for the holidays. My signing pen worked overtime, but it's worth it," said Seaton, a two-time NAACP Image Award nominated, episodic director of hit shows like TBS's "Ground Floor," NBC's "Undateable," Nickelodeon's "The Haunted Hathaways," and "Nicky, Ricky, Dicky and Dawn;" Disney's "Austin and Ally" and BET's "Reed Between the Lines."
LEGEND OF THE MANTAMAJI features a diverse cast of characters, including two African-American leads. The epic series tells the story of Elijah Alexander -- an arrogant, media-hungry assistant district attorney, who is about to learn something shocking: he is not even human. He is the last of the Mantamaji, a long-lost race of warriors who once protected humanity when the world was young. The series has fast-paced, heart-stopping action combined with a layered, thoughtful story that is full of hair-raising plot twists. The series is also available at Amazon.com, local comic book shops and digitally at Barnes & Noble Nook, iTunes, GooglePlay and Kobo.
"LEGEND OF THE MANTAMAJI" a 2014 San Diego Comic-Con Exclusive, is perfect for comic book and graphic novel enthusiasts from ages 9 and up.
The book features artwork by Brandon Palas, colorist Andrew Dalhouse, who has worked with From Boom, Dark Horse, Image, Marvel and DC and lettering by Deron Bennett, who was nominated for an Eisner Award for his work on titles like Jim Hensons Dark Crystal, Jim Hensons Tale of Sand and Helldorado, among others.
PRAISE FOR LEGEND OF THE MANTAMAJI:
"Fans who bemoan the 'big two' for a lack of vision, or effort, to create bold new characters and franchises, should learn that innovation can often be found elsewhere. 'LEGEND OF THE MANTAMAJI' has all of the excitement, imagination and suspense to be a TV or film series on its own, but instead it is here as a comic to be enjoyed by the masses who crave them. 'LEGEND OF THE MANTAMAJI' volume one is a must read for those who crave all of the spectacle and action of superhero comics, yet want a comic which offers creative new ideas and a progressive storyline with real weight behind it," Alex Widen, Brooklyn Comic Book Examiner.
ABOUT ERIC DEAN SEATON:
As an episodic director, ERIC DEAN SEATON has helmed 38 different shows, 195 television episodes, 18 music videos and two pilots for Nickelodeon, as well as two pilots for Disney XD. He has also directed episodes of the NBC/Warner Bros. comedy "Undateable," BET's "Let's Stay Together" and "Reed Between the Lines." He is a Cleveland, Ohio native and attended The Ohio State University. Eric, his wife, son and daughter live in California. "LEGEND OF THE MANTAMAJI" is his first graphic novel.