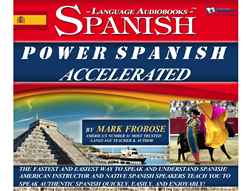 Champaign, IL (PRWEB) December 02, 2014
As the holiday season moves forward, more and more people will be searching for an ideal
language program to purchase for that special someone on their Christmas list. Many will find a problem with choosing the correct program, the best method, and even wonder how to best deliver the gift itself.
"Not to worry," says Mark Frobose, creator of Power Italian Accelerated. "There are easy and economical solutions to gift shopping for language programs," he assures.
The bestselling author of Power Spanish Accelerated says that with just a few simple adjustments, the expense, stress and indecision related to holiday language program shopping can be totally avoided or at least greatly reduced.
Here are five tips Mark Frobose recommends:
1. Buy online. Shop for an all-audio digital language program online to compare prices and listen to audio samples of the programs before making a purchase.
2. Compare prices. Don't assume that the highest-priced program is the best. Many excellent programs are available for under $20.00. "Our bestselling "Power French Accelerated" only costs $19.00," adds Mark.
3. Make sure it's gift wrapped. Digital gift-wrapping is becoming a real must in today's audio language shopping world. "Recipients love it," exclaims Frobose.
4. Avoid computer-based language programs like the plague. They're expensive, and worse. Computer-based language programs shackle the learner to one location and lack the portability needed for effective language learning.
5. Only buy smartphone-friendly audio language programs. "The program should download immediately to a smartphone for immediate use," explains Mark, bestselling author of Smartphone Spanish Intensive.
Learn Languages Everywhere™ is the motto of LanguageAudiobooks.com. The Language Audiobooks® method is an extremely effective and versatile audio language learning system that can be used anywhere for any duration of time to teach people to speak any language while in the car, at home or on a smartphone!
Free sample lessons of Language Audiobooks' popular Power Spanish, Power French, Power Italian, Bite-Sized Mandarin, Conversational Latin-American Spanish, Clean French Slang and other innovative language programs are available now at LanguageAudiobooks.com and at Audible.com.