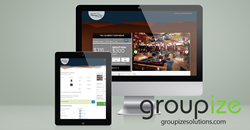 The market potential for special events, parties and social groups represents an enormous revenue opportunity.
Boston, MA (PRWEB) December 01, 2014
Mohegan Sun Casino Resort, located in Uncasville, Connecticut, one of the largest casinos in the United States has selected Groupize Solutions to attract and convert more small corporate and leisure groups. Groupize Solutions is the preferred group booking platform for over 7,000 of leading hotels, resorts and chains.
As a premier destination, Mohegan Sun Casino Resort boasts more than 300,000 square feet of gaming within three casinos, a 34-story, 1,200-room luxury hotel tower and more than 100,000 square feet of meeting and function space. Mohegan Sun Arena is now ranked consistently among the top venues in the world according to Billboard Magazine, Pollstar and Venues Today.
"We selected the Groupize GBE so that we could capture the growing demand for small leisure and corporate retreat groups visiting our website," explains Alisha Cadoret, who heads up the Leisure and Corporate Strategic Marketing at Mohegan Sun Casino. "The market potential for special events, parties and social groups represents an enormous revenue opportunity, and we recognized that the 'sweet spot' for offering preferential group pricing and online booking tools is four rooms or more."
By implementing the Groupize GBE (Group Booking Engine), Mohegan Sun will be able to offer group bookings directly via a white-labeled booking widget, seamlessly customized to their website. With the dynamic rates and availability available to planners online, conversions will increase, and the costly dependency on 3rd parties and OTA's will decrease. By automating small to medium size leisure group bookings, sales staff is freed up to focus on personal service and responding to the larger group leads.
"We are proud to be working with an organization that has such an extraordinary presence in the casino and tribal gaming industry," says Charles de Gaspe Beaubien, President and CEO of Groupize. "We are confident that our group solutions will help them achieve their small and leisure group revenue and operational objectives while helping them deliver the world class service their guests expect."
To view an online demo of the Groupize GBE with the newly enhanced Instant Book and the Hub, CLICK HERE or visit http://www.groupizesolutions.com.
REGISTER HERE to attend a free webinar - Smart Hoteliers Guide to Managing Small Group eBusiness.