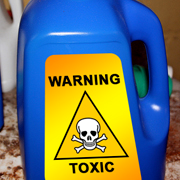 Most adults are well aware that some products in their homes may be dangerous if improperly used.
Denver, CO (PRWEB) December 03, 2014
Cleaning products and other common household goods generally pose little danger to users - most people are well aware they should not ingest these products and understand safe usage of similar goods. However, children and pets that do not know any better may still wind up coming into contact with these hazardous products, which may result in serious injury or sickness. Custom labels can help homeowners and adults keep these products out of reach of children, pets or anyone else who could get into them.
Lightning Labels, a custom sticker and label printing company, can work with product manufacturers to produce warning labels that are sure to catch buyers' attention. These labels should feature vibrant colors to attract users users. Companies may also want to use various symbols such as a skull to graphically convey that certain items could be dangerous. Additionally, these labels should feature specific instructions in case of accidental exposures so people can aid those affected quickly and effectively.
"Most adults are well aware that some products in their homes may be dangerous if improperly used, but they may not think twice about where they are stored, which could lead to accidental exposure to children and pets," said Scott Proctor, Vice President of Sales at Lightning Labels. "With vibrant product labels, manufacturers of potentially hazardous goods can help remind customers at all times to keep good care of these products to limit any potential accidents."
Warning Labels May Prevent Disaster
Unfortunately, many children are taken to hospitals every year due to accidental exposure to household goods. For example, single-use detergent packets, such as Tide pods, " are incredibly common hazards. To children or pets, these pods may look like toys, or perhaps even candy, which can result in ingestion as kids or pets try to bite into the pods."
In fact, U.S.A. Today even reported that, in the first two years detergent pods were made available on the market, hospitals across the United States saw an average of one child per day due to exposure to concentrated detergents. While many manufacturers of these products are working on child-proof packaging to stop children from getting their hands on the pods, the easiest step for makers of these goods and similar products to take simply involves using warning labels to remind parents to store these items in places where children cannot access them easily.
Information Stickers are Great Reminders
Adults may be all too familiar with some hazardous household items, which makes it easy for them to forget how dangerous some products can be. Colorful information stickers included on the packaging can help brands stress the importance of safety and minimize accidental exposure.
By leveraging a custom printing company such as Lightning Labels, brands can create vibrant warning labels for their products that will help remind customers of these hazards so they can take preventative measures.
About Lightning Labels:
Lightning Labels uses state-of-the-art printing technology to provide affordable, full-color custom labels and custom stickers of all shapes and sizes. From small orders for individuals, to the bulk needs of big businesses, Lightning Labels is equipped to handle and fulfill custom label and sticker projects of all types. Best of all, like the name implies, Lightning Labels provides a quick turnaround for every customers' labeling needs. Uses for Lightning Labels' custom product labels and custom stickers include food packaging and organic food labels, wine and beverage labels, bath and body labels, and nutraceutical products, such as vitamins, essentials oils, and herbal remedies, as well as event stickers, adhesive window stickers and more. Lightning Labels strongly supports the development of environmentally friendly printing materials and carries EarthFirst PLA, a new kind of green label material made from corn instead of petroleum. While operating as a high-tech printer, Lighting Labels prides itself on its personalized customer service. Lightning Labels provides one stop shopping for all of your custom label needs. For more information and to place orders online, visit LightningLabels.com. For the latest in packaging news and labeling promotional offers, find Lightning Labels on Twitter (@LightningLabels), Facebook, Pinterest, Google and LinkedIn.