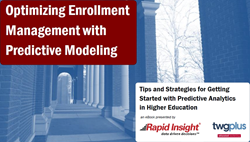 It is never too early or too late to make data a key institutional asset.
Austin, Texas (PRWEB) December 03, 2014
TWG Plus, LLC is proud to release an eBook to help higher education institutions optimize enrollment management through the use of predictive modeling. The eBook was written collaboratively with Rapid Insight Inc., the leading provider of easy-to-use predictive analytic and data blending software. The publication includes an overview of the types of predictive models that are used by college and university enrollment management offices as well as tips regarding how to create a data-driven strategy within colleges and universities that leverages predictive modeling.
According to Dr. James Vineburgh, Director of Research at TWG Plus and one of the study authors, "Among the key assets of any institution are its history, people, and financial resources. Being able to leverage data and models effectively can help articulate institutional history in a more meaningful and comprehensible way and provide support to inform strategic decisions. When data and models become vital and trusted assets, your institution and key stakeholders can evolve so that you are best equipped to face the challenges that lie ahead in terms of the college admissions landscape."
The eBook can be downloaded freely from http://www.twgplus.com/research/.
About TWG Plus:
TWG Plus is a full-service higher education marketing company located in Austin, Texas, and Charlotte, North Carolina. With a portfolio of services from student search and publications to branding, research, and social media consultation, the TWG Plus Educated Marketing approach combines data, strategy, and creativity so that colleges and universities achieve optimal results in their marketing efforts. For more information visit http://www.twgplus.com.
About Rapid Insight Inc.:
Rapid Insight Inc. is a leading provider of predictive analytic software and solutions that provides organizations with the ability to make data-driven decisions. Focusing on speed, efficiency, and usability, Rapid Insight products enable users of any skill level to quickly turn their raw data into actionable information. The company's analytic software platform simplifies the extraction, analysis, reporting, and modeling of data for clients ranging from small businesses to Fortune 500 companies. For more information, visit: http://www.rapidinsightinc.com.
Media Contacts:
For additional information or questions about the study, please contact:
Dr. James Vineburgh
james(dot)vineburgh(at)twgplus(dot)com
1.319.448.0757