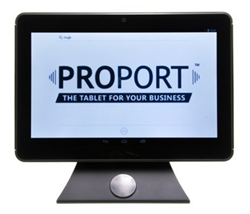 This an exciting step for AD Technologies, and we are proud to support Wondersign's Android application with our PROPORT device. --Dan McKean, V.P. of Sales
Traverse City, Michigan (PRWEB) December 02, 2014
AD Technologies announces the certification of Wondersign's Digital Media application for use on the PROPORT™ commercial tablet.
The PROPORT is a powerful Android-based commercial tablet from AD Technologies which can be deployed as a digital signage display, self-serve kiosk, point-of-sale terminal, business process solution, and much more. WONDERSIGN is a software application that delivers digital media to screens and tablets for on-premise upselling, wayfinding and information display, all with an intuitive and affordable management console in the cloud.
"This an exciting step for AD Technologies, and we are proud to support Wondersign's Android application with our PROPORT device. With the release of the PROPORT, customers deploying commercial and business applications no longer need to rely on consumer tablets, like the Samsung Galaxy Tab, and 3rd party enclosures for mounting and securing the tablet and cables. Our device features a high performance CPU, powerful video processing, built-in VESA mount, removable rear panels for securing multiple USB peripheral devices, and smart cable routing in a compact and aesthetically pleasing form factor. This makes it a perfect match for the Wondersign software, which provides outstanding capabilities for creating engaging digital media displays and digital signage," says Dan McKean, Vice President of Sales at AD Technologies.
"I am thrilled to announce that PROPORT commercial grade tablets can now be deployed with Wondersign's easy-to-use content management platform," said Andy Reinhard, Chief Executive Officer of Wondersign. "As a hardware-independent software provider we strive to offer our clients a wide variety of powerful devices for a multitude of applications. PROPORT tablets are a perfect addition, particularly for interactive kiosks that require high-performance commercial grade tablets with enhanced security and connectivity features."
ADT offers configurable, purposed devices, optimized for business and commercial applications. The PROPORT™ commercial tablet is their flagship product and is designed for integration with numerous peripherals and mounting solutions for full-featured installations. PROPORT provides a clean Android interface without "bloatware," generous IO connections, built-in cable security, VESA mounting, and more. The device is also modular and can be customized or branded for OEM or key account customers.
About AD Technologies
APPLIED DEVICE TECHNOLOGIES was established in 2013. As a product development, sales and distribution company, our team draws on well decades of experience designing, marketing and producing commercial grade electronic devices and solutions. ADT's goal is to provide customers with innovative products that drive business goals, facilitate customer demand and offer best of breed technology solutions to deliver value and easy to deploy end-to-end solutions. ADT's main office is located in Traverse City, Michigan. For more information visit: http://www.applieddevicetechnologies.com
About Wondersign
Wondersign® is an easy-to-use, affordable and powerful cloud-based digital media distribution service for digital signage and interactive kiosks ideal for in-store marketing and on-premise upselling as well as digital out-of-home advertising. An intuitive administrator's console allows for the creation and scheduling of attractive content with zero technical knowledge and no additional software. Wondersign can be used for an unlimited number of displays in multiple locations around the globe, and supports a variety of hardware products from different manufacturers. Wondersign's United States headquarters is located in Tampa, Florida. For more information visit: http://www.wondersign.com
Copyright © 2014 Applied Device Technologies. All rights reserved.