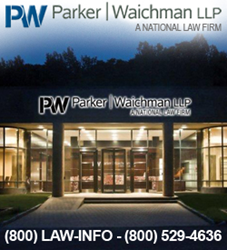 "The updated FDA notification emphasizes the risk of spreading a hidden cancer with the use of power morcellators," said Gary Falkowitz, Managing Attorney at Parker Waichman LLP.
Port Washington, NY (PRWEB) December 01, 2014
Parker Waichman LLP, a national law firm dedicated to protecting the rights of victims injured by defective drugs and medical devices, is commenting on recent safety information announced by the U.S. Food and Drug Administration (FDA) over the use of power morcellators. In an Updated Safety Communication issued on November 24, 2014, the agency stated that the tools can spread undetected cancer, specifically uterine sarcoma, when used in minimally invasive (laparoscopic) uterine surgery to treat fibroids.
According to the updated notification, power morcellators are tools that are used to cut up tissue into smaller pieces to be removed more easily through small incisions during laparoscopic, or minimally invasive, surgery. The agency estimates that 1 in 350 women undergoing hysterectomy (removal of the uterus) or myomectomy (removal of fibroids) has a hidden uterine cancer that can be spread through the use of power morcellators. "If laparoscopic power morcellation is performed in women with unsuspected uterine sarcoma, there is a risk that the procedure will spread the cancerous tissue within the abdomen and pelvis, significantly worsening the patient's long-term survival." the notification stated. "Limiting the patients for whom laparoscopic morcellators are indicated, the strong warning on the risk of spreading unsuspected cancer, and the recommendation that doctors share this information directly with their patients, are part of FDA guidance to manufacturers of morcellators. The guidance strongly urges these manufacturers to include this new information in their product labels."
The alert updates information from an FDA Safety Communication issued on April 17, 2014, when the agency first discouraged the use of power morcellation due to the risk of spreading a hidden uterine sarcoma.
Dr. William Maisel of the FDA's Center for Devices and Radiological Health said "We believe that in the vast majority of women, the procedure should not be performed," according to an NBC News article published on November 24, 2014.
The FDA notification also included new contraindications. The agency said that morcellators should not be used in women who are peri- or post-menopausal or are candidates for en bloc tissue removal; the tools should also not be used in gynecologic procedures where there is known or suspected cancerous tissue. The notification advises women to ask their doctors about all the options available to treat their condition. Women who have undergone a hysterectomy or myomectomy are usually tested for cancer; routine follow-up is advised for patients who have normal tests.
The FDA is issuing an Immediately In Effect (IIE) guidance asking manufacturers to update their product labeling to include a boxed warning and the two new contraindications. "Our experience is that manufacturers follow F.D.A. guidance. The F.D.A. has asked manufacturers of currently marketed devices to submit their revised labeling to the agency within 120 days after issuance of the guidance." said FDA spokeswoman Jennifer Rodriguez, according to a New York Times article published on November 24, 2014.
A Boston Globe article published on November 25, 2014 reports that Dr. Hooman Noorchashm, whose wife was diagnosed with stage 4 cancer after undergoing a uterine procedure with a power morcellator, feels that the new measures should be stricter. He stated that his wife's cancer "would still have been morcellated under the new guidelines."
"The updated FDA notification emphasizes the risk of spreading a hidden cancer with the use of power morcellators," said Gary Falkowitz, Managing Attorney at Parker Waichman LLP. "As a law firm that represents numerous individuals in lawsuits over medical device injuries, we advise women to be aware of the risks associated with power morcellation during laparoscopic uterine procedures."
Parker Waichman LLP offers free legal consultations to victims of injuries allegedly caused by medical devices, including morcellator devices, and injuries allegedly suffered during fibroid removal. If you or a loved one experienced injuries during a fibroid surgery that might be associated with a morcellator device, please contact the Firm at its Power Morcellator page at yourlawyer.com. Free case evaluations are also available by calling 1 800 LAW INFO (1-800-529-4636).