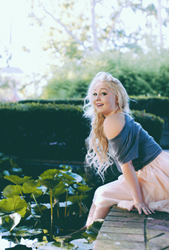 Reston, VA (PRWEB) December 03, 2014
Charismatic singer/songwriter RaeLynn has partnered with the National Association for Music Education(NAfME) and Give a Note Foundation to celebrate the 30th Anniversary of Music In Our Schools Month next March. The Valory Music Co. talent penned "Always Sing" with songwriters Nicolle Galyon and Jimmy Robbins for music students nationwide. The Boston Brass joined RaeLynn last month (10/26) to debut the new song, which will be included in the Concert for Music In Our Schools Month repertoire using an arrangement from Jupiter Band Instruments' Rick DeJonge.
In conjunction with NAfME's signature program, Music In Our Schools Month, Give a Note Foundation will engage schools across the country to submit a video of their school ensemble performing "Always Sing" for yet-to-be-announced surprises along the tour. For a second consecutive year, Big Machine Label Group (parent company of The Valory Music Co. imprint) and Give a Note Foundation will partner for the Music In Our Schools Tour beginning March 1, 2015. The tour will feature stops at up to five schools where RaeLynn will perform, in addition to a $1000 grant from Give a Note. The deadline for submitted videos to be considered for the tour is January 31, 2015. Sheet music, rehearsal tracks and other information is available here.
RAELYNN has seen her empowering lead track "God Made Girls" rise into the Top 20 at Country radio while the music video has garnered over 4 million views. With the highest charting debut single by a solo female artist in 2014, RaeLynn was chosen as the first female iHeart Media On the Verge Artist, which showcases artists that have the potential to break out of the pack with a great song. Selected as one of CMT's Next Women of Country, it is no wonder that Taste of Country insists, "fans of every age will find a trio of lyrics to get behind" and Popcrush calls her "cheerful, charming, ultra-talented and downright hilarious." The Voice (season 2) alum is featured on "Buzzin'" from coach Blake Shelton's new album and will embark on fellow Texan Miranda Lambert's CERTIFIED PLATINUM Tour in 2015. Currently, RaeLynn is in the studio recording more of the diverse catalogue she penned for her first album on The Valory Music Co. Follow her adventures on Twitter and raelynnofficial.net/.
National Association for Music Education, among the world's largest arts education organizations, is the only association that addresses all aspects of music education. NAfME advocates at the local, state, and national levels; provides resources for teachers, parents, and administrators; hosts professional development events; and offers a variety of opportunities for students and teachers. The Association orchestrates success for millions of students nationwide and has supported music educators at all teaching levels for more than a century. With more than 70,000 members, the organization is the voice of music education in the United States
Give a Note Foundation was created by the leaders of the National Association for Music Education (NAfME) in 2011 to engage community partners in supporting music education, especially in underserved communities. The foundation has distributed more than $1 million to support and strengthen music education programs across the U.S.
THE VALORY MUSIC CO.: The Valory Music Co., an imprint under Big Machine Label Group, is home chart-toppers Brantley Gilbert, Justin Moore and Thomas Rhett; legendary act The Mavericks as well as rising stars RaeLynn and Levi Hummon. The label celebrated its first #1 album and #1 single within a year of launching in 2007, since scoring #1 hits such as "It Goes Like This" (Thomas Rhett), "Bottoms Up" (Brantley Gilbert) and "Lettin' The Night Roll" (Justin Moore). Songwriting credits from the talented troupe include Thomas Rhett's "Round Here" (Florida Georgia Line) and "Parking Lot Party" (Lee Brice), while Brantley Gilbert has penned smashes like "Country Must Be Country Wide," "Dirt Road Anthem" (Jason Aldean) and "My Kinda Party" (Jason Aldean). VMC artists have take home multiple American Music Awards, Academy of Country Music Awards, Country Music Association Awards, American Country Awards and CMT Music Awards and nominations, in addition to being featured as part of CMT's Next Women of Country.