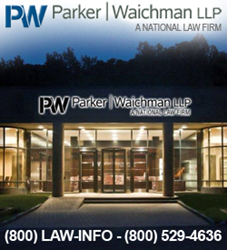 "Patients, and their doctors, need to know whether, and to what extent, the treatments they receive may cause them a potential injury."
Port Washington, New York (PRWEB) December 02, 2014
Parker Waichman LLP, a national law firm long dedicated to protecting the rights of victims who have been injured by medications, comments on a study conducted by researchers at the University of Copenhagen and the University of Southern Denmark that reveals that pediatric use of asthma medications may be associated with serious adverse reactions, according to a HealthCanal report dated November 19, 2014.
According to HealthCanal, the research is based on European Union (EU) adverse drug reaction (ADR) reports and reveals that risks associated with asthma medications in children has not been fully documented in pre-marketing clinical trials. Since 2007, the European Medicines Agency (EMA), an EU agency, has been collecting data on patients' experiences with ADRs in EudraVigilance, the European ADR database. Authorities and pharmaceutical companies are required to report ADR information to the database.
There is often little data to support information about dosage, safety, efficacy, and efficiency for regarding the use of medications in children. In fact, most clinical trials do not include children, leaving the burden of determining pediatric treatments on physicians, Parker Waichman LLP indicates.
The research, which has been published in the International Journal of Clinical Pharmacy, involved all EU ADR reports on asthma medications approved for and used by children from 2007 to 2011. While the number of ADR reports was not considered "overwhelming," according to the researchers, of the 774 ADR reports received, 85 percent, "almost all reported by physicians, are classified as serious," according to Professor Ebba Holme Hansen from the Department of Pharmacy, University of Copenhagen, who conducted the research with Professor Lise Aagaard from the University of Southern Denmark, according to the National Institutes of Health's PubMed.
Children are not smaller versions of adults and lowering the medication dosages to accommodate their small size may result in serious consequences. For example, children may not be able to appropriately metabolize certain drugs, no matter how small the dose, notes Parker Waichman LLP.
Beclometasone, budesonide, fenoterol, fluticasone, formoterol, mometasone, montelukast, salbutamol, and terbutaline, and the combination medications budesonide/formoterol, fenoterol/ipratropium, and fluticasone/salmeterol were reviewed. "We located 326 spontaneous reports corresponding to 774 ADRs for the included asthma medications. Approximately 85 percent of reported ADRs were serious, including six fatal cases." About 57 percent involved boys and 25 percent were reported in children up to one year of age. Physicians reported most of the ADRs and psychiatric disorders; respiratory, thoracic, and mediastinal disorders; and skin and subcutaneous disorders were seen, mostly with budesonide (21 percent), salbutamol (20 percent), and fluticasone (19 percent). The authors concluded that "Only a few ADRs from use of asthma medications in children were identified in the EudraVigilance ADR database, but a large majority of these were serious, including fatal cases."
"Patients and physicians rely on safe and effective medical treatments," says Gary Falkowitz, Managing Attorney at Parker Waichman LLP. "Patients, and their doctors, need to know whether, and to what extent, the treatments they receive may cause them a potential injury."
Patients who received these asthma medications and are injured may be entitled to compensation, Parker Waichman LLP indicates.
Parker Waichman LLP continues to offer free legal consultations to victims of pharmaceutical side effects. If you or a loved experienced an injury as a result of a drug treatment, please visit the firm's Defective Drug page at YourLawyer.com or contact the firm, toll-free, at 1 800 LAW INFO (1-800-529-4636).