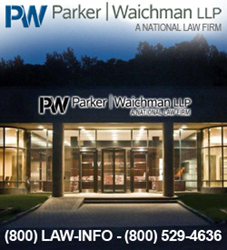 "We are happy that the justice system continues to recognize that cigarettes are dangerous," said Gary Falkowitz, Managing Attorney at Parker Waichman LLP. "These verdicts should be sending a strong message to the tobacco industry."
Port Washington, New York (PRWEB) December 03, 2014
Parker Waichman LLP, a national law firm dedicated to protecting the rights of consumers, comments on a recent tobacco lawsuit in which a Miami jury reached a $21 million verdict on November 18, 2014, in a case brought against R.J. Reynolds by the widow of a smoker who died of lung cancer allegedly associated with his cigarette smoking. The jury awarded Diane Schleider $15 million for loss of companionship following her husband, Andrew Schleider's, death and their daughter, Suzanne LeMehaute, $6 million. Mr. Schleider was diagnosed with chronic obstructive pulmonary disease (COPD) and lung cancer; R.J. Reynolds was found 70 percent liable for Andrew's death; Mr. Schleider was found 30 percent liable; and the jury did not award punitive damages. The case, one of the thousands of Engle progeny cases pending in Florida court, is Schleider v. R.J. Reynolds Tobacco Co. et al., case number 2013-6984-CA, in the 11th Judicial Circuit Court of the State of Florida.
Diane Schleider is a member of the "Engle litigation" originally filed in 1994 (Case No.: SC03-1856; Florida Supreme Court), which involves thousands of individual lawsuits brought against cigarette companies. According to a June 9, 2014 ScotusBlog report, the lawsuits are believed to be more effectively resolvable individually because of the way in which the Court originally created the trial plan. The 1994 Engle case involved six individuals and eight claims of injustices allegedly conducted by tobacco firms against smokers. Allegations ranged from fraud claims to claims that cigarettes are inherently dangerous due to their flawed designs.
Smoking is the leading preventable cause of death in America and smoking and second-hand smoke are linked to serious and deadly diseases in adults and children, including respiratory ailments, cardiac disease, and a broad array of cancers, to name just a few, notes Parker Waichman LLP.
Also this month, another jury found for the plaintiff, 61-year-old Richard Boatright, in a $35 million verdict against Philip Morris USA Inc. Mr. Boatright, a smoker, underwent two lung transplants allegedly due to his having smoked Marlboro brand cigarettes since he was 12 years of age. The jury awarded Mr. Boatright, another Engle progeny plaintiff, $15 million in compensatory and $20 million in punitive damages. Philip Morris was found 85 percent responsible for his emphysema and COPD, while Mr. Boatright was found 15 percent responsible. The case is Richard Boatright v. Philip Morris USA Inc., et al., case number 2011CA-000158-0000-WH, in the Circuit Court for Polk County, Florida. In October 2014, a Florida federal jury found for Kenneth Kerrivan, a smoker diagnosed with severe COPD, hitting Philip Morris and R.J. Reynolds with a $41.1 million verdict. The case is Kenneth Kerrivan v. R.J. Reynolds Tobacco Company, et al., Case No. 3:09-cv-13703, in the U.S. District Court for the Middle District of Florida.
Engle was originally filed as a nationwide class action on behalf of smokers who either suffered from, or died from, a smoking-related disease. The litigation was reduced to cover a class in Florida and was further reduced so as not to be a class action at all. Engle was ultimately broadened into the thousands of individual trials it represents today—the so-called "third round," according to the ScotusBlog report. Notably, in the first case, the Florida courts created a legal plan under which the original case would be the one in which findings of fact and findings of legal liability would be developed for all smokers and all types of cigarettes. This plan would become binding in later cases. The second round was meant to decide questions of liability for three of the class representatives, as well as a question of punitive damages for the entire class.
The original Engle jury awarded the class $145 in punitive damages; the award and class designation were both set aside by Florida's Supreme Court. When the individual cases began to be tried in the third round, the original jury's findings were binding. Following the state Supreme Court's 2006 decision, over 9,000 individual claims were brought and, over the following seven years, the tobacco industry has sought to have the High Court both review the original Engle decision and Engle's "progeny" lawsuits that followed, according to ScotusBlog. The Court continually denies these requests.
On September 9, 2014, the Florida Supreme Court denied a petition made by Lorillard Tobacco Company for discretionary review of the Third District Court of Appeal's decision in Lorillard Tobacco Co. v. Alexander, No. 3D12-1593 (Fla. 3d DCA Sept. 4, 2013). The lawsuit was brought by Dorothy Alexander, individually and as the Personal Representative of the Estate of Coleman Alexander in state court in Miami-Dade County by Jordan Chaikin of Parker Waichman LLP along with co-counsel Alex Alvarez of The Alvarez Law Firm; Gary Paige of Gordon & Doner, P.A.; John Mills of The Mills Law Firm; and Robert Glazier of the Law Office of Robert S. Glazier.
Following a three-week trial, the jury found in favor of Mrs. Alexander on her claims against Lorillard, awarding her $20 million in compensatory damages and $25 million in punitive damages. The Court wrote, "Because we find Lorillard's multiple arguments on appeal without merit; the remitted compensatory damages award in the amount of $10 million and the punitive damages award in the amount of $25 million are neither excessive nor unconstitutional; and the compensatory and punitive damages awards are supported by the manifest weight of the evidence, we affirm." The lawsuit was filed based on the death of Coleman Alexander due to smoking-related lung cancer.
"We are happy that the justice system continues to recognize that cigarettes are dangerous," said Gary Falkowitz, Managing Attorney at Parker Waichman LLP. "These verdicts should be sending a strong message to the tobacco industry."
Parker Waichman LLP is a leading personal injury law firm that represents plaintiffs nationwide. The firm has offices in New York, New Jersey, Florida, and Washington, D.C. For more than two decades, Parker Waichman LLP has assisted thousands of clients in receiving fair compensation for injuries resulting from defective drugs, medical devices, and other products, including cigarette and tobacco products. Free case evaluations are also available by calling 1 800 LAW INFO (1-800-529-4636).