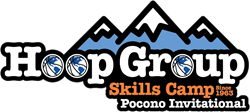 Neptune, NJ (PRWEB) December 04, 2014
The Hoop Group, the leader in basketball instruction, competition and exposure, is offering a tremendous deal for any basketball enthusiasts this holiday season. From now until December 19th, The Hoop Group is offering a discount to any of their Skills Camps this upcoming summer.
Hoop Group Skills Camp, a division within The Hoop Group, has been running basketball camps in the beautiful Pocono Mountains in Stroudsburg, Pennsylvania since 1963. The Pocono facility has 37 cabins with 8-20 bunks each, a dining hall for all meals and 13 beautifully maintained outdoor courts. The staff to camper ratio is 1:7 and welcomes boys and girls ages nine and up.
The camps give players the opportunity to learn from National Championship winning high school coaches such as Bob Hurley and Kevin Boyle when they come to run camp on two separate occasions during the summer. They can also elevate their game at Ball Handling and Shooting Camp, Skills Camp and Junior Elite Weekend camps. Hoop Group Skills Camp can also offer a great bonding experience during the summer with their Father/Son and Parent Daughter weekends.
By acting now and securing your spot in one of these terrific camps, you can save big this winter. Boys will receive $70 off any week long camps and $30 off weekend camp. Girls will receive $50 off any week long camps and $30 of weekend camps. In addition to the discounted prices, every player will receive a free Under Armour bag and camp tee shirt.
The Hoop Group Skills Camps are the best camps for players who are serious about raising their game. Don't miss out on your chance to save on a great deal this holiday season. For more information contact Chris Zupko or visit http://www.hoopgroup.com/giftofcamp
About Hoop Group
Hoop Group is the worldwide leader in basketball instruction, offering premier basketball camps since the summer of 1963. Having touched the lives of over one million young men and women, Hoop Group has evolved from simply offering summer basketball camps, to hosting tournaments and competitions, skills camps, and basketball facilities to the basketball community.
Contact:
Chris Zupko
Zupko(at)hoopgroup(dot)com
Hoop Group
(732) 502-2255
hoopgroup.com