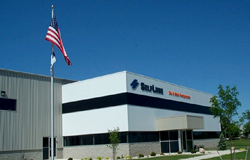 The tooling industry is growing and we need to grow with it.
Coopersville, MI (PRWEB) December 01, 2014
SelfLube, the leading U.S. manufacturer for precision mold and die components announces a major expansion in manufacturing operations in Coopersville, MI. In 2015 the Company will be adding machines, employees and manufacturing space. Some machines have already been delivered and are up and running.
"The tooling industry is growing and we need to grow with it," says SelfLube Owner, Phil Allor. "Actually to properly serve our customers, we need to stay a little ahead of the curve which is what this expansion is all about."
This is not SelfLube's first big expansion. It is actually one of several. SelfLube started out 25 years ago as a two-man shop, making a few precision components for a few local tool shops. Since then the Company has expanded and re-invented itself multiple times. Now, SelfLube manufactures over 10,000 different part numbers for over 1,000 customers throughout North America.
SelfLube's components are available in both conventional and self-lubricating graphite. With a solid reputation backed up by five successive zero non-conformance ISO 9001:2008 quality audits, the Company is well positioned to supply the current precision component needs of the tooling industry. And with the expansion it will be in a position to do so well into the future. SelfLube's product line includes: wear strips, wear plates, bushings, gibs and parting line locks. It can be viewed online at http://www.selflube.com.