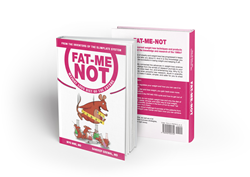 Weight loss is about balancing nutrition, not limiting your options.
Rock Hill, SC (PRWEB) December 03, 2014
Too many people fail to stick to their New Year's resolutions to lose weight because they don't plan ahead, says Dr. Myo Nwe, author of the new weight loss book for 2015, "Fat-Me-Not: Weight Loss Diet of the Future."
Nwe, co-founder of the Ace Medical Weight Loss Center in Rock Hill, SC, recommends having a strategy in place by January 1 rather than radically adjusting personal habits in one day.
"It's a good idea to do some appropriate shopping throughout December by stocking up on healthier food options and actually planning a day-by-day diet," she explains. "You want to look at the whole picture, from having less fatty snacks on hand to planning a detailed exercise schedule."
In her new book, "Fat-Me-Not," Dr. Nwe breaks down many of the common myths of dieting, including the strategy of only eating salads and grilled chicken. Nwe says you should never limit your diet to only a few types of food, and instead believes a wider variety is actually better.
"Weight loss is about balancing nutrition, not limiting your options," she writes. "You don't need to cut out carbs for weight loss. You just need to keep the portions correct."
Dr. Nwe's approach to weight management is rooted in the sciences of the human mind and body. Utilizing clinical studies in physiology as well as psychology has helped her better understand the instinctive patterns that cause people to fail at weight loss.
"Patterns will undermine a diet plan in no time," Nwe explains. "Driving passed the same fast food restaurant on your way to work everyday can sabotage your plans in the first week. You have to recognize those type patterns in order to avoid them."
Dr. Nwe says that you need a plan for long-term weight loss. "But that doesn't mean slow weight loss; It only means effective weight loss that lasts."
Dr. Nwe's book "Fat-Me-Not" is available at http://www.fat-me-not.com.