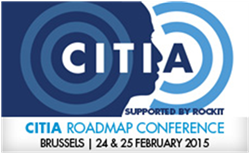 Brussels, Belgium (PRWEB UK) 2 December 2014
The partners of the ROCKIT project - funded by the FP7 programme of the European Commission – announce the 1st CITIA Roadmap Conference, to be held next February 24-25, 2015 in Brussels, Belgium.
ROCKIT develops a research and innovation agenda including a strategic roadmap in the area of natural conversational interaction and has arrived to a first version of the roadmap after the first year of the project. The CITIA Roadmap Conference will be aiming to share the first version of the Roadmap for Conversational Interaction Technologies and to launch the Conversational Interaction Technology Innovation Alliance (CITIA), aiming to form a broad-based, cross-sector community around the ROCKIT roadmap as a long-term route to sustainability.
The 2-days conference programme enables the exchange of ideas and networking among all stakeholders of the European Conversational Interaction Technologies ecosystem, among which SMEs and corporations, universities and research institutes European institutions, specialized media. The conference programme foresees five interactive sessions where stakeholders will debate around the five scenarios of the ROCKIT Roadmap and present industry models and business cases:

1st scenario - Adaptable interface for all
Driven by demographic trends, interfaces designed for elderly people and for people with disabilities have the potential to be an increasingly important application area for conversational interactive technologies.
2nd scenario - Smart personal assistants
Typically embedded in mobile devices, these agents will substantially enrich the interaction by taking account of the local and global context.
3rd scenario - Active access to complex unstructured information
Linking knowledge to rich interaction will enable the development of agents which can search proactively and can make inferences from their knowledge to enable people to be notified of relevant things faster, and to help people reach understanding of complex situations involving many streams of information.
4th scenario - Communicative robots
As robot technologies develop, it will become more necessary for robots to be able to communicate naturally and socially.
5th scenario - Shared collaboration and creativity
This session will feature the drivers for enriched shared collaboration, including translating and augmented videoconferencing, design and creative collaborations, and multiplayer games.
Registration to the conference is free of charge.
For further information and registration visit http://www.e-unlimited.com/CITIARoadmapConference or contact Annalisa Gardella at +32 2 643 3691 or at annalisa(at)e-unlimited(dot)com