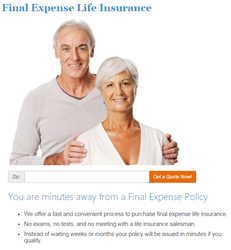 LifeSource Direct has pioneered a quick and easy way to purchase final expense coverage online.
(PRWEB) December 02, 2014
Today LifeSource Direct, an online insurance provider, announced a new final expense insurance product available online at http://www.lifesourcedirect.com. The final expense product, called "Legacy Saver Plan," provides consumers between the ages of 50 to 80 years of age, the option to buy a guarantee issue final expense policy. Through the 1-click platform on LifeSource Direct, the Legacy Saver Plan allows for a simple way to purchase insurance online without the inconvenience of traditional underwriting.
Designed for the Baby Boomer generation (1946 to 1965), final expense insurance is an integral part of financial planning. It is designed to give the aging population access to an insurance instrument that can take care of modest expenses at end of life. Those unpaid expense, such as credit card bills and funeral expenses, typically become the burden of their children or surviving spouse.
The Legacy Saver Plan give the baby boomer a way to be remembered as financially thoughtful parents and grandparents. Those who properly plan and prepare for their golden years should always take into account the expenses that come after their passing. The average funeral cost between $7000 and $10,000 (http://funeral-tips.com/how-much-does-the-average-funeral-cost/). Accessing one's personal financial resources at a time of mourning adds additional financial stress to the surviving members and can make the loss of a loved one that much worse.
The situation is further amplified in the current economic conditions for Baby Boomer facing end-of-life issues. According to the 2011 Associated Press and LifeGoesStrong.com surveys (http://en.wikipedia.org/wiki/Baby_boomers and http://www.prnewswire.com/news-releases/ap-lifegoesstrongcom-poll-finds-for-most-baby-boomers-home-is-where-the-heart-is---and-the-kids-too-132609678.html), "Baby Boomers are in a state of denial regarding their own aging and death and are leaving an undue economic burden on their children for their retirement and care." It further sites that:

60% lost value in investments because of the economic crisis
42% are delaying retirement
25% claim they'll never retire (currently still working)
The LifeSource Direct Legacy Saver Plan helps address this problem by providing guarantee issue life insurance. Utilizing their on-line platform, final expense insurance can now be purchased economically in a matter of minutes with no salesman present. Assistance can be provide by an 800 phone number if necessary.
The Legacy Saver Final Expense Plan helps those between the ages of 50 and 80 and can be put in place by following three simple steps:
1. Go to website (http://www.lifesourcedirect.com) and click on final expense.
2. Choose an amount of coverage and answer a few questions to create an application
3. Acceptance is guaranteed and a policy is mailed directly to the client.
Regardless of health or medical problems, acceptance is guaranteed. There is full accidental death benefit in the first year, and a limited death benefit in the first 2 years. After 2 years full coverage is in force. Face amounts ranging from $5000 to $20,000 are available.
A spokesman from LifeSource Direct stated " This product fill a niche in the marketplace for those seeking a quick and easy way to purchase final expense coverage without having to schedule an appointment with an agent or going through a medical exam."
About LifeSource Direct
LifeSource Direct (http://lifesourcedirect.com) was formed to create a dynamic, state of the art, direct sales life insurance company backed by an experienced and professional staff.
Incorporating the latest cutting edge technology with one of the best consumer support staffs in the industry assures a simple and easy process for purchasing life insurance. LifeSource Direct works with top rated insurance carriers including Prudential, SBLI, RBC, Banner Life, MetLife, Lincoln, Nacolah, Transamerica, ING and Genworth Financial.
LifeSource Direct now works with thousands of people every year to find them the right life insurance at the right price.