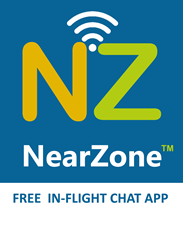 It's one of those things where once you've tried it, you can't imagine how we ever got along without it.
(PRWEB) December 05, 2014
Staying connected to family and friends this holiday season will be effortless according to the developers of a new mobile app. It can also help those separated from their loved ones connect with new acquaintances.
NearZone, a mobile app that utilizes phone-to-phone technology, allows users to send and receive profiles, messages, and data by accessing the basic components of a smartphone.
"This means you don't need to have Wi-Fi or even a cell signal for it to work, and that opens up a lot of possibilities," says Myo Sandar Nwe, lead developer for the app.
If large families are spread across a crowded airport terminal, the app can help keep everyone on the same page without making phone calls. Users can instantly link up to all members of their group, even across different platforms and networks.
The app essentially allows users to ping one another straight from one phone to the other, without bouncing the signal across cell towers or satellites. The radius within which the app can make contact is adjustable.
Families flying together can even keep in contact if separated on the plane. It can also come in handy during hectic shopping days, bringing greater efficiency through organization. However, the designers say they're most impressed with how people use it to reach out to someone new.
"The app was designed to help make new contacts, something that can be especially useful during the holidays," explains Dr. Myo Nwe, who also helped develop the app. "Many people are separated from the people they know and love this season, but the app helps with that because it quite literally offers a new way to find some fresh companionship during a potentially lonely time."
As the popularity of phone-to-phone continues to grow, Myo Sandar Nwe says users are continually expanding the ways in which the technology can be used. "It's one of those things where once you've tried it, you can't imagine how we ever got along without it."