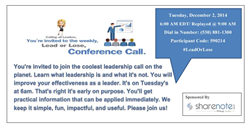 "We want to end the year with a bang and start off 2015 with a deep dive on emerging, changing and evolving leadership Innovations," says Rod Brown, COO of OnceLogix LLC. "This allows us to give back to our clients and the communities we serve."
(PRWEB) December 01, 2014
Sharenote, one of the nation's leading web-based software solutions for the behavioral healthcare industry, has announced a special weekly leadership conference call designed to help those in business and leadership roles to become more effective. The 15-minute weekly call will take place every Tuesday beginning, December 2, 2014 live at 6:00 a.m. (EDT) with a 2nd recorded call at 9:00 a.m. (EDT). The call is free and open to the public and participants all across the world can dial in at (530) 881.1300-participant code 590214.
Leadership topics will include:

Increasing leadership abilities
The seven factors of leadership
The five phases of leadership
Six qualities to help a leader gain respect
The cost of being a good leader
Infuse your Tuesday mornings with a quick dose of useful information that will benefit you and your business! Make sure to use hashtag #LeadorLose on all your social networks to join the online conversation!
What: Leadership Conference Call 'Lead or Lose'
When: Tuesday, December 2, 2014
Call time: Live at 6:00 a.m. (EDT) and recorded at 9:00 a.m. (EDT)
Conference number: (530) 881.1300
Access code: 590214
For more information about the founders of Sharenote please log onto http://www.sharenote.com.
###