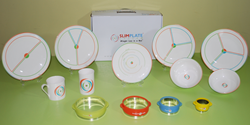 We have to simultaneously rewire how we look at food.
(PRWEB) December 09, 2014
"Listen to your gut" is the advice one weight loss expert offers for those undertaking a diet as a New Year's resolution. Dr. Myo Nwe is co-founder of the Ace Medical Weight Loss Center in Rock Hill, SC and co-author of the healthy weight loss guide "Fat-Me-Not: Weight Loss Diet of the Future".
Dr. Nwe and her partners have fashioned a weight loss kit that incorporates a greater understandings of human digestion. The SlimPlate Weight Loss System focuses on systematic portion control, while following a diet plan built around the science of the stomach.
"We now have such a broader grasp on how the body functions," Dr. Nwe explains. "The types of bacteria in our stomachs, it turns out, have a huge impact on weight gain."
By implementing a diet high in certain types of fiber and protein, Nwe says dieters can jumpstart their weight loss experience because it helps promote the right type of bacteria growth for better digestion. This, she says, opens the door to faster weight loss.
"But we have to simultaneously rewire how we look at food," she adds. "We have such a distorted view of proper portions, partly because restaurants push ever larger entrees."
"Some of these mega-platters have twice the daily suggested intake of just about everything deemed bad. We've never needed to eat this way before, and it's fundamentally dangerous when it becomes routine," Dr. Nwe says.
The SlimPlate Weight Loss System also utilizes a series of precisely marked bowls, plates, and cups. Each pinpoints a gradually-reduced portion size as users follow the weight loss program included in the kit. However, Dr. Nwe doesn't discourage her patients from enjoying the foods they love or even limiting their diets to just certain types of food.
"The SlimPlate System allows you to keep the foods you enjoy, but helps slowly guide you to a more reasonable amount over time," she explains.
Dr. Nwe, along with her partner Dr. Sandeep Grewal, founded the Ace Medical Weight Loss Center to help bring a more scientific approach to weight management. Both are internal medicine specialists who practice in the Carolinas.
The SlimPlate Weight Loss System is available http://www.slimplatesystem.com.