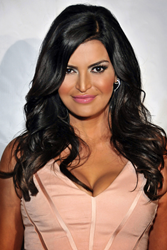 When I first got sober I didn't realize that the only thing I'd have to change was everything
Palm Beach Gardens, FL (PRWEB) December 01, 2014
Model, actress and woman in substance abuse recovery, reality TV star Jennifer Gimenez donated her time and some hope to the newly recovering addicts at A New Day Alcohol & Drug Treatment Center last week. Gimenez who started a social media campaign known as soberbook.com spoke to the clients and shared her story. "When I first got sober I didn't realize that the only thing I'd have to change was everything," shared Gimenez.
Clients were in awe of the celebrity and her story of addiction and finding sobriety. One client stated she had never felt more "hope for recovery" than in that moment.
Gimenez spoke to the group about abusing drugs and alcohol during her early days as a model. After getting clean for a brief period of time and ironically landing a role opposite Jonny Depp in the movie "Blow," she quickly fell off the wagon. Then succumbing to the care of Dr. Drew Pinsky, Jennifer was finally able to get clean and sober for good. She went on to star as the house manager of Sober House, a spin-off of Dr. Drew's Celebrity Rehab.
Gimenez now guest stars on the popular show Real Housewives of Beverly Hills. She splits her time between California where the show is filmed and Florida where she devotes all her time to helping addicts and alcoholics seeking recovery.
Clients from every level of care listened to Gimenez story and participated in an intimate Q&A session where she listened to their stories and answered questions about herself and about recovery. Many staff members from A New Day listened in and participated as well.
"We think it's important for the clients to find someone they can relate to," said Executive Director of A New Day Mark Keegan "someone they can derive hope from. There are so many stigmas attached to addiction today and we want to ensure our clients know that everyone is affected by this disease. Even celebrities eventually seek recovery and remain vigilant in staying sober and giving back."
This is not the first time Gimenez has donated her time and personal story to A New Day and it will not be the last. It is her goal to reach as many addicts as possible and to connect them all to her project Soberbook.com. Soberbook is a safe place for addicts and alcoholics to share stories of their struggles in hopes that others may identify or gain inspiration in their own lives.