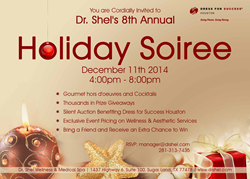 Houston, Texas (PRWEB) December 02, 2014
Dr. Shel invites you to the Annual Holiday Soiree on December 11th of 2014, 4:00pm – 8:00pm. The event will be at The Dr. Shel Wellness & Medical Spa –1437 Highway 6 Suite 100 Sugar Land, Texas 77478. Come and join us at Dr. Shel Wellness & Medical Spa for an evening of gourmet hors d'oeuvres and cocktails.
Thousands in prizes with be given away. Make sure to bring a friend for an extra chance to win the prizes. There will be a silent auction benefiting Dress for Success Houston. Dress for Success Houston helps to promote the economic independence of disadvantaged women by providing professional attire, a network of support, and career development tools to help women thrive in work and in life. Event attendees will have access to exclusive even pricing on wellness and aesthetic services.
Dr. Shel Wellness and Medical Spa is a unique wellness center combined with a state-of-the art medical spa. Our Zen like facility allows you to experience the warm embrace of our family that is here to serve you. We also helps you on your journey to look and feel your best. Dr. Shel Wellness and Medical Spa has been deemed one of the most unique, upscale and comprehensive facilities of its kind in Texas.
We combine just the right blend between the art of beauty and the science of wellness to strike a balance that is truly life changing for our patients.
This is a remarkable event that we always look forward to every year. Please RSVP by emailing manager(at)drshel(dot)com or calling 281-313-7435. Contact us for more information.