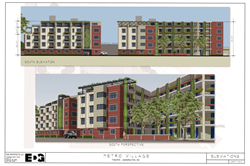 Columbia, MD (PRWEB) March 03, 2015
A five story, mixed income rental community is planned for 7051 Spring Place, NW in Takoma Park. Metro Village Apartments will be a transit oriented community. The property will provide a choice of transit subsidies annually for each household to include an annual bike-share membership, car-sharing membership or pre-loaded Metro fare card.
Metro Village Apartments will consist of studios, one and two bed room apartment homes. The mixed-income community will be 80% income-restricted as part of the Low Income Housing Tax Credit Program, 120 of which will be affordable for residents making 60 percent or less than the Area Median Income (AMI). The remaining 20% of the apartments are scheduled to be high-end, market rate rentals.
Facilities will include community room, exercise room, roof decks, and parking.
The development will complete significant off-site improvements to the sidewalk system connecting the property to Blair Road, and the Metropolitan Branch Trail extending from and including the length of the property to Chestnut Street. The design of a section of the Metropolitan Branch Trail, to be constructed by the District, it will connect Spring Place to Cedar Street and the Takoma Metro Station.
The property is being developed by Takoma Spring Place LP with participation from AHD and Bruce Levin. AHD/Equity Management Joint Venture will be managing the property which is scheduled to open in the fall of 2015.
Equity Management is a leading property management firm, specializing in affordable housing in the Mid-Atlantic area with over 9,000 units under management in 7 states. Equity Management has experienced rapid growth and has a wide range of management services to help investors meet their needs. For more information please visit http://www.equitymgmt.com.