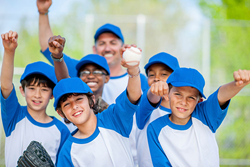 This is really a great addition to a community that's already centered around family values.
Pigeon Forge, Tennessee (PRWEB) December 10, 2014
On November 13, Cal Ripken broke ground on what will be the 3rd Cal Ripken Experience complex in the country. The Cal Ripken Pigeon Forge sports center brings a professional baseball quality facilities to young people from around the country. This $22.5 million dollar facility will bring many more visitors to the already thriving region of Pigeon Forge.
Cal Ripken Jr. made history by setting the record for most consecutive games played in the major leagues. This All-Star player comes from a family who knows baseball a family with strong roots in America's pastime Carl Ripken Sr. coached the Baltimore Orioles for 36 years (the same team Cal Ripken Jr. played for his entire career).
Drawing on experiences of his father teaching him as a child, Ripken Jr. set out to create facilities that allow youth to discover the joy of baseball. Opening his first center in his home town of Aberdeen, MD and then another in Myrtle Beach, SC, the existing Cal Ripken Experience centers offer kids a chance to enjoy tournaments and training on fields modeled after the big leagues.
"This is really a great addition to a community that's already centered around family values," a spokesperson from Cabins USA, Pigeon Forge stated in regards to the new Cal Ripken Experience location.
With the addition of this new baseball facility, Pigeon Forge will become a baseball destination. Already guests can enjoy America's favorite pastime at a Smokies baseball game. Now even larger tournaments can be held in the area with this new facility that offers a thrilling baseball experience. Not only can visiting families enjoy the tournaments, but Pigeon Forge's top notch attractions, restaurants, and beautiful mountain views.
Construction on the facility is intended to end in Spring 2016. Once completed the grounds will feature 6 fields modeled after Oriole Park, Isotopes Stadium, Fluor Field, BB&T Ballpark, Calfree Park , and Engel Stadium. Each of the fields comes complete with the best synthetic turf and lights. Additionally top-notch training facilities give guests the major league quality they've come to expect from the Cal Ripken experience. A two-story 14,000 square feet clubhouse overlooks all 6 fields and the majestic Smoky Mountains in the distance.
Starting at minor league fields, the youth who reach the championship round will be able to play at Camden Yards just like Cal Ripken Jr. From the covered dugouts to the on-site photography, Ripken Experience Pigeon Forge will provide the visitors youth baseball at their finest, both on and off the field. Even the coaches will enjoy making calls from the dugouts and gazing up at the professional scoreboards.
"It will be great for all the families vacationing at our cabins to enjoy this fantastic sports complex and America's favorite pastime in the Smokies" Cabins USA, Pigeon Forge's spokesperson said.
At the groundbreaking ceremony, Mayor David Wear stated that he expects the Cal Ripken experience to draw in $40 million per year. It's not a shocking figure. A partnership between the Ripken name and Pigeon Forge is sure to be a home run for this established family destination and it's latest forthcoming attraction.
Locally owned and operated in Pigeon Forge, Cabins USA seeks to provide the best lodging accommodations for visitors to the Smokies. Offering Pigeon Forge cabins that provide plenty of sleeping and entertainment space for large groups, Cabins USA is the perfect choice for your team's getaway to the Smokies. Combine multiple cabins in the same area for even larger groups. For more information on renting a Pigeon Forge cabin through Cabins USA please visit our website at http://www.cabinsusa.com/ or call (800) 584-9872.