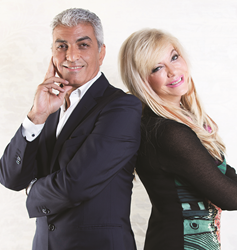 Perla Lichi Gallery owns and operates its own manufacturing facilities, products and services, making it ideal to serve the hospitality market.
Coral Springs, Florida (PRWEB) December 03, 2014
Perla Lichi Gallery (http://www.perlalichi.com), the UAE office of Coral Springs interior designer Perla Lichi, has recently been commissioned to design and furnish several major hospitality projects including the 12-story, four-star Armada Hotel on Sheikh Zayed Road in Dubai and the 54-story Armada Hotel Apartments in Sharjah.
For the Armada Hotel, Perla Lichi Gallery will design and furnish 300 hotel rooms—standard, junior and royal suites, as well as the restaurants.
Perla Lichi will also design and furnish the lobby, restaurants public areas and two, three and four-room apartments at the Armada Group's Salam Towers in Sharjah—approximately 350 apartments. "They are going for a more luxe category," said Perla Lichi Gallery Manager Ossama Salem. "With our well established reputation in luxury models and private estates and residences, Perla Lichi Gallery was the perfect choice."
Salem revealed that with the vertical strength of owning and operating its own manufacturing facilities, Perla Lichi Gallery was also the ideal candidate selected to execute and install a hotel for Flora Group Hotels, following their design and specs.
Perla Lichi Gallery offers a unique turnkey hospitality solution including design and execution and will soon announce its own line of Egyptian cotton sheets and linens. The Gallery already represents high-end decorative hardware producer Bronces Mestre of Valencia, Spain, known for creating hardware that is like fine jewelry for home and commercial interiors.
"Perla Lichi Gallery is uniquely qualified to provide the best quality, prices and service for the hospitality market," explained Director of Operations Ossama Salem. "Combine this with Perla Lichi's extraordinary design expertise, and there's no doubt that we offer an ideal solution for hoteliers around the world."
Perla Lichi is a recognized force in international interior design and is currently celebrating her 30th year as a professional interior designer. Just this year she has won numerous awards including Best of Show in the US Florida Atlantic Building Association Prism Awards program, and 29 individual awards for projects around the world.
A savvy businesswoman and smart marketer, Ms. Lichi has published photos of her work in five coffee table books. The newest, "Palaces of the World," was published early in 2014. Copies are available in her showrooms.
Perla Lichi Gallery in Dubai and with an affiliate office in Mumbai, India, specializes in residential and hospitality design worldwide. The company is located on the 33rd floor of the H Hotel Office Tower. Ms. Lichi also owns and operates a design showroom, Perla Lichi Design, in Coral Springs, Florida.
For more information about Perla Lichi visit http://www.perlalichi.com/. To schedule a private consultation in the USA, call Perla Lichi Design at 954-726-0899. In Dubai, call Perla Lichi Gallery at +1 971 43942898.
#####