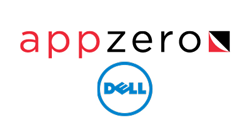 "We added AppZero software to our solution to help provide customers with even more choice and flexibility when faced with this end of support challenge," - Joe Schoenbaechler, Vice President, Infrastructure Consulting Services, Dell Services
Andover, MA (PRWEB) December 09, 2014
AppZero, the fastest, most flexible way to move enterprise applications to the cloud, announced an alliance with Dell Services to help customers migrate off Windows Server 2003 before it reaches end of extended support on July 14, 2015. With extended support ending, many organizations are still either unaware of the coming end, or are struggling with legacy applications that still require the old architecture.
In addition to the Dell Windows Server 2003 Migration services, AppZero is an important technology that adds to Dell's capabilities for migrating applications off Windows Server 2003 at a time when businesses should start eliminating the old server operating system from their networks. AppZero extends Dell's proven approach to infrastructure and application migrations as it relates to Windows Server 2003 end of support.
AppZero has also integrated its flagship product with Dell ChangeBASE, the leader in automated application compatibility testing, application remediation, application virtualization and application packaging. Partnership with AppZero allows Dell to extend automation of migration tasks even further by providing a simple way of detecting and migrating applications that are missing source media or original configuration information – thus closing the loop in migration challenges.
"We added AppZero software to our solution to help provide customers with even more choice and flexibility when faced with this end of support challenge," said Joe Schoenbaechler, Vice President, Infrastructure Consulting Services, Dell Services. "We chose AppZero because it not only brings automation but has a unique ability to encapsulate and migrate custom or commercially available applications without needing access to the original software media."
AppZero CEO Greg O'Connor adds, "In working with Dell it is clear that their experience in OS migration and deep understanding of the importance of helping their customers move off of Windows Server 2003 before their systems are at risk makes them a leader in the data center modernization and cloud migration market."
AppZero's Partner Program is the foundation of the company's worldwide channel strategy to ensure comprehensive global coverage of its award-winning application migration software in the run-up to Windows Server 2003 (WS2003) end of support.
AppZero partners combine cutting edge products and services that open up the business potential of the cloud. For more information or to participate in the AppZero Partner Program contact partners(at)appzero(dot)com.
About AppZero:
AppZero is the fastest, most flexible way to move server applications to and across any cloud or datacenter, without code change or lock-in. Encapsulating Windows applications in VM/OS-free packages, AppZero's patented software moves complex server applications with ease. AppZero allows you to move from an old OS to a newer one, with the click of a button - modernize and move to the cloud in one step.
Dell is a trademark of Dell Inc. Dell disclaims any proprietary interest in the marks and names of others.