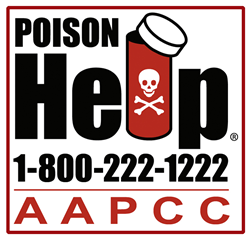 AAPCC is proud to align itself with this movement on this global day of giving.
ALEXANDRIA, VA (PRWEB) December 01, 2014
The American Association of Poison Control Centers (AAPCC) encourages people across the United States to support their local poison centers through donations on Dec. 2, 2014: Giving Tuesday. According to GivingTuesday.org, since 2012 the Tuesday following Thanksgiving has been known as Giving Tuesday; a day when "charities, families, businesses, community centers, and students around the world will come together for one common purpose: to celebrate generosity and to give."
The nation's 55 poison centers receive millions of calls each year from the public, law enforcement, and health care providers. Operating 24 hours a day, every day of the year, and serving all 50 states and U.S. territories, poison center experts are ready to answer questions and help treat people of all ages who have been exposed to poisons at no cost to the caller or healthcare system. In addition to answering calls from individuals, poison centers have played critical roles in public health ranging from the outlawing of synthetic drugs in 2012 (Synthetic Drug Abuse Prevention Act), to alerting the public about the dangers of single-dose laundry packets in 2013, and recently in the West Virginia chemical spill on Jan. 9, 2014. Additionally, for every dollar invested in the poison center system, an estimate of $13.39 is saved in medical costs totaling more than $1.8 billion in savings every year. Unfortunately, government funding has decreased (36 percent since 2010) which has forced six poison centers to shut their doors since 2010.
"Giving Tuesday is a fantastic initiative and AAPCC is proud to align itself with this movement on this global day of giving," said AAPCC Executive Director Stephen T. Kaminski, J.D. "It is our hope that people recognize the important role poison centers play by donating to this worthy endeavor."
AAPCC encourages the public to call their local poison center at 1-800-222-1222 to find out how to donate, or visit http://www.aapcc.org/about/poison-center-donations/.
For more information, the media may contact Brett Schuster, AAPCC associate manager, Public Relations and Member Services, at 703.894.1865 or schuster(at)aapcc(dot)org.
AAPCC supports the nation's 55 poison center members in their efforts to treat and prevent drug, consumer product, animal, environmental and food poisoning. Members staff the Poison Help hotline at 1-800-222-1222 that provides free, confidential, expert medical advice 24 hours a day, seven days a week, 365 days a year from toxicology specialists, including nurses, pharmacists, physicians, and poison information providers. In addition, AAPCC maintains the only poison information and surveillance database in the United States, providing real-time monitoring of unusual poisoning patterns, chemical exposures and other emerging public health hazards. AAPCC partners with federal agencies such as EPA, HRSA and the CDC, as well as private industry.
To learn more, visit http://www.aapcc.org, like us on Facebook, follow us on Twitter (@AAPCC), or read our blog at aapcc.wordpress.com.
To learn more about #GivingTuesday participants and activities or to join the celebration of giving,
please visit: http://www.givingtuesday.org.