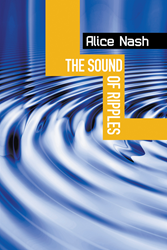 "I want to show my son the greatness of his mother's motherland, and be fully aware of his Chinese heritage." Author Alice Nash
(PRWEB) December 03, 2014
"The Sound of Ripples" tells a tale of how unpredictable life can be. China's newest province – Hainan – has just been formed, and is granted status as the largest Special Economic Zone by the central government.
Hainan attracts many young people pursuing their dreams of a better life, including 27-year-old Samantha Smith, who holds a degree in literature and administration management. She takes a two-week holiday in Haikou, the coastal capital of Hainan, to check out job possibilities and what it would mean to her love life. Samantha becomes a journalist at a Haikou newspaper before her holiday is over. But numerous emotional and professional twists push her to leave Haikou.
Samantha is at the peak of her career in PR at the China branch of a multinational group beginning to develop a major economic zone in South China, when the Tiananmen Square event takes place. How will this game-changing event further change her life?
"This book offers a fascinating look at China during difficult times. We are thrilled to announce its release," said Robert Fletcher, CEO of Strategic Book Publishing and Rights Agency.
Watch the video at: https://www.youtube.com/watch?v=EzicE_ETBNU
"THE SOUND OF RIPPLES" (ISBN: 978-1-63135-236-2) is now available for $15.50 and can be ordered through the publisher's website:
http://sbprabooks.com/AliceNash, Amazon, or the website of Barnes & Noble.
WHOLESALERS: This book is distributed by Ingram Books and other wholesale distributors. Contact your representative with the ISBN for purchase. Wholesale purchase for retailers, universities, libraries, and other organizations is also available through the publisher; please email bookorder(AT)sbpra.net
About the Author: Alice Nash grew up in Sichuan, China. As the first generation of immigrants to England from China, she wants to tell her children and descendants why their family immigrated. She also wants to let her son know that there's a deep connection between him and China. "I want to show my son the greatness of his mother's motherland, and be fully aware of his Chinese heritage."
Strategic Book Publishing and Rights Co, LLC