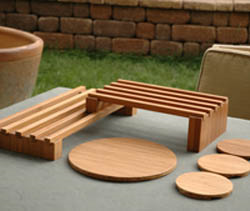 I couldn't be more pleased with the way the HomeSets can be used everywhere.
Boise, Idaho (PRWEB) December 03, 2014
PEDESTAL DESIGNS® today announced their introduction of HOME DECOR SETS™, their new, patented, made-in-America, home-display product, made for parties, meals, or any occasion, designed to create a new way to present food, drinks, decorations, and more. The product will be showcased at the Boise Christmas Show, located at the Expo Idaho facility, 5610 N Glenwood St, Boise, ID 83714, on December 5th-7th, Friday through Sunday, Aisle E, Booth 144.
Due to the popularity of its patented, commercial-sized PEDESTAL DESIGNS® product line, the company has responded to the demand by creating this smaller, modular, display system, HOME DECOR SETS™ product line that offers the same brilliant, multi-level display systems used for at-home applications.
PEDESTAL DESIGNS®, Inc., moved to Boise, Idaho, May 2013, and is branching out into the residential market with its newly announced product line, HOME DECOR SETS™. The appeal of HomeSets is versatile and easily unleashes creativity that can transform a boring kitchen counter into a birthday party sweet shop. Each set is multi-functional and easy-to-set-up and comes with eighteen durable, inter-changeable components.
"The company's goal is to provide a 'new decorating toolbox' for (men and woman) everyone who loves creative decorating," said Petra Reed, designer and founder of PEDESTAL DESIGNS®. "I couldn't be more pleased with the way the HomeSets can be used everywhere and how easy it is to change their look, from funky to festive, from cool to organizer, from artsy to designer, and on and on. This is the product's first showing, with a lot more things to come."
Home Decor Sets™ are made with two different types of materials, solid bamboo and black-colored, resin-impregnated fiber. Both are very durable and have a clean, high-quality, and appealing appearance. These elements are designed for cold displays only and will not tolerate heat. They are easy to clean by using a mild soap and warm water solution on a damp soft cloth. Just wipe dry with a clean, lint-free cloth. Never soak, use abrasive cleaning products, or clean these products in a dishwasher, as that will harm their beautiful and functional appearance.
And don't put them back into storage, instead, use them as a tool for your creativity to make a corner in your home special.
# # #
If you would like more information about this topic, please contact Petra Reed at (650) 838-0469 or email at Info(at)HomeDecorSets(dot)com.