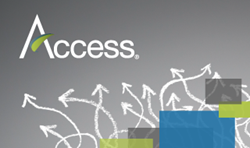 Completing our e-forms project in three months was an ambitious goal, but Access was able to get it done. Getting a timely response means everything to me and that's what their support team provides.
Sulphur Springs, Texas (PRWEB) December 02, 2014
As Lawrence Memorial transitioned from paper-based records to a fully electronic medical record (EMR), administrators recognized the need to capture patient information more efficiently. To meet this need in the admissions department, Lawrence Memorial selected an e-forms on demand solution from Access.
"We wanted the ability to capture advanced directives, admission orders and other patient forms at the point of registration and send these directly into our EMR," said Lawrence Memorial HIM Director Darlene Glass. "That's exactly what the Access system allows us to do."
Previously, patients completed paper-based registration packets that staff members pulled from a storage area. The forms were taken to HIM for scanning and manual indexing. Now, the Access system generates an electronic forms packet. Once a patient completes the forms, the registration clerk scans them into the EMR.
"The Access system has created efficiency when patients present, and taken the scanning burden off of the HIM team," Glass said. "We also like knowing that forms are going exactly where they're supposed to."
Another advantage that the move to e-forms provided is that it prompted Lawrence Memorial to evaluate its admissions forms process. As a result, the hospital has consolidated its admissions packet. When combined with the prefilling of form fields with demographic data (which Access pulls directly from the HIS), they've been able to speed forms completion.
"Now that we have electronic forms it takes less time for patients to complete their registration packets," Glass said. "We're also less likely to misplace documents, as we're not storing hard copies any more and electronic forms are sent into the EMR."
One of Lawrence Memorial's requirements for its forms project was to go live in three months. Glass feels that Access's professional services and support teams helped make this hope become reality.
"Completing our e-forms project in three months was an ambitious goal, but Access was able to get it done," Glass said. "Getting a timely response means everything to me and that's what their support team provides."
About Lawrence Memorial Hospital
Lawrence Memorial Hospital is a 25-bed, critical access hospital that serves the rural area of Lawrence County, Arkansas, and its surrounding communities. LMH has a full-service lab, radiology department, a 24-hour emergency department and a swingbed program. Lawrence Memorial also offers cardiac rehab, sleep disorders testing and rehabilitative services. Learn more at http://www.lawrencehealth.net
About Access
For more than 15 years, Access has developed electronic forms management solutions that eliminate the unnecessary expense, risk and inefficiency of paper forms. Our 100 percent paperless technology enables organizations in any industry to capture, manage, sign and share forms data without printing or scanning. Learn more at http://www.accessefm.com and help Access's partner The Last Well bring clean water and the Gospel to Liberia at https://thelastwell.org/give/accessefm2014/