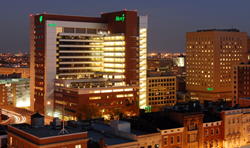 "Working with Everseat is consistent with our mission to provide the best possible patient care. Patients want to be seen by our medical experts as soon as possible"
Baltimore, MD (PRWEB) December 01, 2014
Mercy Medical Center has announced that it has entered into an agreement with Everseat to employ an all new mobile scheduling platform for its Women's Services, including: Gynecology, Gynecologic Oncology, Breast Disease and Breast Cancer, Imaging Services such as mammograms, and Endocrinology, including diabetes, thyroid and bone health.
Everseat will enable practices at Mercy's Weinberg Center for Women's Health & Medicine to instantly share the availability of open appointments with patients across the region. The mobile-ready app allows patients to be notified of last minute openings, improving patient access and satisfaction. It also allows maximum efficiency for the practice with decreased use of office resources. Patients are able to use a mobile app to search, find, and request appointments with Mercy's women's center providers. The service is free for patients and the mobile app can be accessed through the iTunes Store for Apple users or the Play Store for Android users.
"Working with Everseat is consistent with our mission to provide the best possible patient care. Patients want to be seen by our medical experts as soon as possible," said Michael Mullen, Vice President, Weinberg Center for Women's Health and Medicine at Mercy Medical Center. "This new app is another tool to help our patients access care quickly and easily."
Mercy Medical Center's commitment to excellence in women's health has earned the hospital national acclaim as a leader in the field. Mercy was recently honored with its third consecutive Women's Choice Award. This is the only national award that focuses on female patient satisfaction using scores derived from the Hospital Consumer Assessment of Health Care Providers and Systems (HCAHPS) database. Among Mercy Medical Center's most prestigious awards are those from U.S. News & World Report which ranked Mercy as the #2 hospital in the state of Maryland, a best national hospital in gynecology and a regional best hospital in cancer.
"We are excited to establish a partnership with The Weinberg Center for Women's Health & Medicine at Mercy. Mercy Medical Center is a health care leader focused on innovative solutions that deliver exceptional patient experiences. Everseat fits nicely into that agenda. It is really an honor to work with such a lauded institution," said Jeff Peres, Co-founder and CEO of Everseat.
About Mercy
Founded in 1874, Mercy Medical Center is a university-affiliated medical facility named one of the top 100 hospitals in the U.S. by Thomson-Reuters with a national reputation for women's health. Mercy is home to the nationally acclaimed Weinberg Center for Women's Health and Medicine as well as the $400+ million, 20-story Mary Catherine Bunting Center. For more information visit Mercy online at http://www.mdmercy.com, Facebook, Twitter or call 1-800-MD-MERCY.
About Everseat
Everseat is a technology platform that facilitates scheduling between organizations and consumers. Everseat enables organizations to make open appointments available immediately, for same day as well as longer-term appointments. Consumers can quickly and easily find and schedule appointments from the free Everseat mobile app. Last minute availability is posted and claimed in real time, significantly increasing efficiency and profitability while improving consumer satisfaction. For more information, visit Everseat online at http://www.everseat.com or call 888-899-9506.