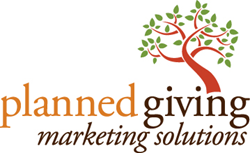 Hi-Tech & Hi-Touch Giving
Santa Barbara, CA (PRWEB) December 03, 2014
New...coming, January 15th, Planned Giving Marketing Solutions will be adding 5 new programs to help create, facilitate and deliver major gifts to nonprofit organizations and foundations nationally.
Working together with Charitable Capital Design Center of Tarpon Springs, Florida will combine both 'Hi-Tech and Hi-Touch' using both state of the art online giving together with local advisors.
Planned Giving Marketing Solutions will also be working with Argonne Trust Company of South Dakota for our trust work. PGMS will have many trusts available online to download to meet the needs of donors and to help streamline the process of major gift giving.
In addition to the new programs PGMS will provide Executive Bonus Plans for nonprofit Executive Directors and retirement programs for nonprofit staff. These programs are designed to attract and keep key staff and employees of nonprofits.
Planned Giving Marketing Solutions started in September 2009 with their 'Legacy Life Giving' program designed as an attractive alternative to a 'bequest'. This program helps donors leave a much larger gift at a much lower cost. The next program added was the 'Legacy Wealth Replacement' program designed to allow donors to give current gifts of appreciated assets to their favorite nonprofit and use the tax savings to purchase a life insurance policy in the amount of the gift naming the donors family as the beneficiaries so they are not disinherited by the donors generous gift.
Last month PGMS added a new Charitable Gift Annuity program (reinsurance) to help the smaller to midsize nonprofits to receive a current gift while the donor receives lifetime income, a nice tax benefit, and their favorite nonprofit receives a current gift.
Company Info:
Planned Giving Marketing Solutions, LLC specializes in the facilitation of major gifts between donors and non-profit and advisors. PGMS is located at 1056 B Eugenia Place, Carpinteria, CA 93013. Products are offered in most states by Tom Ligare, CA DOI #0F26541 in association with LifeHelp, Redding, CA -Tom Ligare is a member of Financial Service Professionals, Association of Fundraising Professionals and Partnership for Philanthropic Planning.