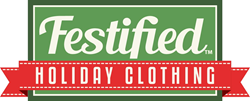 Ashburn, VA (PRWEB) December 02, 2014
Cozy up this season in Festified's holiday sweaters. Currently featured in a new holiday commercial by Samsung, Festified has gone mainstream.
The commercial features holiday junkies, a glowing, pregnant Kristen Bell and her husband, Dax Shepard, decorating their home for the holidays. As the couple move about the house wearing various Christmas sweaters, Festified's matching sweaters are seen. They string lights in the house, put up the Christmas tree, and cuddle up on the couch, all dressed in the same tacky Christmas sweaters. Even the dogs sport theirs!
Being featured in the commercial is exciting for Festified's Founder, John Kaplar.
"Having the chance to see our sweaters on TV, in a nationally broadcast commercial is amazing," says John, "we couldn't ask for a better opportunity to showcase our products!"
Festified has holiday sweaters for the whole family. Women, men, children, and even the pets, can cuddle up with warm and festive sweaters. Heading to a holiday party this season? Festified has you covered with their tacky sweaters and gift ideas.
For more information about Festified's tacky offerings, visit http://www.festified.com.
About Festified
Festified, formerly named 'Skedouche', was founded by John Kaplar in 2009 after many disappointing Christmases where, since all the major retailers failed to carry "festive" sweaters for men, he was forced to wear ill-fitting ladies sweaters. John designed the first tacky sweater collection that summer and built the company from the ground up. The website opened in November 2009 with an overwhelming response from customers and the media. Since then, Festified has grown considerably, and sell thousands of products every year. The retailer is committed to providing excellent customer service, as well as a high quality and enjoyable shopping experience. Festified has been featured on Late Night with Jimmy Fallon, The Tonight Show, The View, The Chew, and Community.