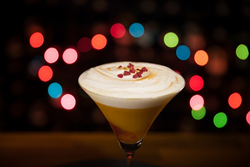 Perched on a precipice high above the city on the 63rd floor of Tower Club at lebua, the glittering multihued Sky Bar continues to propel Bangkok's cocktail culture to ever-greater heights
Bangkok, Thailand (PRWEB) December 02, 2014
Perched on a precipice high above the city on the 63rd floor of Tower Club at lebua, the glittering multihued Sky Bar continues to propel Bangkok's cocktail culture to ever-greater heights with the introduction of the holiday season "Under the Stars" cocktail.
For his latest innovation, resident master mixologist Ron Ramirez set out to surprise and delight all the senses with super-premium spirits, evocative seasonal flavors and unexpected touches like the freshly shaken house-made vanilla passion fruit marshmallow foam topping.
Deftly crafted of cold-infused Absolut 100 vodka blended with passion fruit and raspberry purées, and with captivating hints of aloe vera juice and Moroccan tea syrup, the "Under the Stars" cocktail can be created at home by combining the following ingredients in a shaker with ice:

1 oz Absolut 100 Vodka
2 oz Passion fruit purée
1 oz Raspberry purée
2 oz Aloe vera juice
0.5 oz Lime juice
0.5 oz Moroccan tea syrup
A highlight of Bangkok's nightlife scene, Sky Bar's inspired cocktails, striking atmosphere and spectacular views led it to be named "the most stunning rooftop bar you'll ever see" by the New York Times and is the world's highest open-air bar.
The new "Under the Stars" cocktail will be offered at Sky Bar, as well as Distil one flight up on the 64th floor, through 15 January 2015, for THB 690++ (approximately $21 USD). For reservations or more information, please contact reservations(at)lebua(dot)com, visit http://www.lebua.com/the-dome, or call +66 2 624 9555.
About lebua Hotels & Resorts:
lebua Hotels and Resorts is a growing international luxury brand that operates distinctive hotels, fine restaurants and bars. Led by visionary CEO Deepak Ohri, Bangkok-based lebua takes a unique approach to hospitality that aspires to tap into a deeper level of exchange with guests to create emotional connections. lebua's award-wining lodging collection includes Bangkok's best-performing luxury hotels (Tower Club at lebua and lebua at State Tower), three boutique hotels in India (Devi Garh by lebua, Udaipur; lebua Resort, Jaipur; and lebua Lodge at Amer, Jaipur), and an exclusive property in New Zealand (Lake Okareka Lodge by lebua). The Dome at lebua, the group's collection of restaurants and bars atop its Bangkok hotels, include Sirocco, the world's highest open air restaurant, designated '2011-2013: HAPA Restaurant of the Year' by the Hospitality Asia Platinum Awards; Sky Bar, named "the most stunning rooftop bar you'll ever see" by The New York Times in 2013; Breeze, highlighted by USA Today as one of the world's "10 most cutting-edge restaurants" in 2014; and Mezzaluna, honored as a 'Foodie Top 100' fine-dining mecca in 2013. lebua is expanding its dining concepts to Europe through a strategic partnership with Steigenberger Hotel Group, starting with the 2015 opening of Breeze in Frankfurt at Steigenberger Frankfurter Hof, and is exploring hotel management contracts in city and resort destinations worldwide.
For more information, visit http://www.lebua.com or http://www.facebook.com/lebua, or follow @lebuahotels on Twitter or @lebuaHotelsResorts on Instagram.