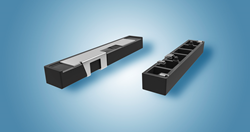 SHANGHAI (PRWEB) December 02, 2014
TE Connectivity (TE), a world leader in connectivity, today introduced two standard antenna extensions — the 5 GHz antenna, which accommodates the new IEEE 802.11ac standard, and the 4G LTE antenna. These new embedded antennas address customers' increasing needs for more compact components in their smaller and thinner devices.
In addition to custom antennas, TE offers several varieties of standard antennas for different applications. The company's four new 5 GHz antenna products provide 5 GHz single-band or dual-band (including 2.4 GHz) wireless connectivity and include cable-attached printed circuit board (PCB) designs and stamped metal antennas. The new 4G LTE antenna using MetaSpan antenna technology offers greater bandwidth in a smaller physical package that supports the migration of 3G to 4G in the cellular industry.
"TE's new embedded 5 GHz Wi-Fi antennas are designed for use in slimmer, standard cable and PCB products for a range of consumer solutions including mobile devices, wearables, set-top boxes, game consoles, printers, routers, high-definition televisions, security systems and security detection, and thermostats," said Scott Hamilton, product manager, TE Consumer Devices. "At TE, wwe understand that Internet of Things (IoT) products need more reliable ways to connect and communicate, and OEMs for products from consumer devices to utilities are looking for efficient ways to connect their products to networks and cellular bands. TE's new embedded LTE antennas with MetaSpan antenna technology provide more cellular bandwidth in a smaller space and cover virtually all cellular bands in one compact design for applications such as smart meters, smart grids, small cells, access points and monitoring/alarm systems."
Key benefits of the 5 GHz antennas include:

A 5 GHz antenna solution in a low-profile compact design
Enhanced efficiency in media access control meeting IEEE 802.11ac
Minimum or no matching components required
Support from a global footprint of manufacturing locations for quick time-to-market solutions
Key benefits of the 4G LTE band antenna include:

Global 4G cellular coverage in a single compact antenna design
A reduced-size antenna solution compared to traditional approaches
A cost-effective antenna design supported by TE's manufacturing technology and expertise
For additional information on TE's antenna product portfolio, go to: http://www.te.com/products/antennas.
TE Connectivity, TE, TE connectivity (logo), and MetaSpan are trademarks. Other logos, product and/or company names might be trademarks of their respective owners.
ABOUT TE CONNECTIVITY
TE Connectivity is a $14 billion global technology leader. Our connectivity and sensor solutions are essential in today's increasingly connected world. We collaborate with engineers to transform their concepts into creations – redefining what's possible using intelligent, efficient and high-performing TE products and solutions proven in harsh environments. Our 80,000 people, including 7,500 design engineers, partner with customers in over 150 countries across a wide range of industries. We believe EVERY CONNECTION COUNTS – http://www.TE.com.
Contacts:
Media Relations:
Grace Zheng
TE Connectivity
+(86)-21-33980797
grace.zheng(at)te(dot)com
Product Communications:
Scott Hamilton
Product Manager
+1 (717) 986-5440
scott.hamilton(at)te(dot)com