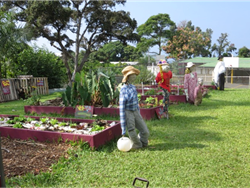 Nutrex-Hawaii.com shoppers worldwide will save 10 percent and give 10 percent to HISGN on #GivingTuesday when they use promo code GIVE10.
Kailua-Kona, Hawaii (PRWEB) December 01, 2014
In honor of #GivingTuesday, Nutrex Hawaii, makers of natural Hawaiian microalgae supplements, will donate 10 percent of all sales at Nutrex-Hawaii.com on December 2, 2014 to the Hawaii Island School Garden Network (HISGN). Founded by The Kohala Center, HISGN supports more than 60 school learning gardens on Hawaii Island through technical assistance, professional development programs, and mini-grants, connecting Hawaii's keiki (children) to real food, healthier eating habits, and the aina (land) itself. The Network also administers FoodCorps Hawaii and the statewide Hawaii Farm to School and School Garden Hui, both of which work to develop garden and nutrition programs for learning gardens and help schools procure fresh, healthy, locally grown food.
"We appreciate Nutrex Hawaii's support," said Nancy Redfeather, HISGN program director. "With their contributions, we will be able to continue to expand the programs we offer Hawaii's most vulnerable population—our children."
"We are thrilled to support HISGN's work on Hawaii Island," said Sheryl Biesman, director of marketing, Nutrex-Hawaii.com. "They are doing a terrific job of promoting positive and sustainable changes in the well-being of Hawaii's youth."
#GivingTuesday is a global movement to celebrate and provide incentives to give. This effort harnesses the collective power of a unique blend of partners—charities, families, businesses and individuals—to transform how people think about, talk about and participate in the giving season.
Nutrex-Hawaii.com shoppers worldwide will save 10 percent and give 10 percent to HISGN on December 2, 2014 when they use promo code GIVE10. This offer is valid on all Nutrex Hawaii products.
###
About Nutrex Hawaii
Nutrex Hawaii was founded in Kilua-Kona, Hawaii in 1990. Our founder, Dr. Gerald Cysewski, chose the pristine Kona Coast of Hawaii due to the pure, unpolluted, clean growing location and access to deep ocean water from a depth of 2000 feet. Our 90-acre facility is located in a BioSecure zone, free of all pesticides and herbicides. Direct from the manufacturer, our Hawaiian Spirulina and BioAstin Hawaiian Astaxanthin are guaranteed fresh, authentic, and straight from Hawaii. http://www.Nutrex-Hawaii.com.
About The Kohala Center
Founded in the year 2000, The Kohala Center is an independent, community-based center for research, conservation, and education. The Center turns research and traditional knowledge into action, so that communities in Hawai'i and around the world can thrive—ecologically, economically, culturally, and socially. The Center's main areas of interest are energy self-reliance, food self-reliance, and ecosystem health.