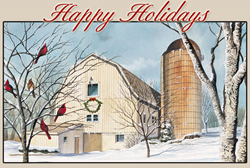 WEST DUNDEE, IL (PRWEB) December 02, 2014
SaveATreeCards.com, a product of Logica3 Ltd., has unveiled its 2014–2015 holiday card lineup at http://holiday.saveatreecards.com. The seasonal site offers more than 100 unique, professionally designed holiday business ecards—one of the largest collections on the Internet. In addition to contemporary favorites, the site houses egreetings with imagery from famed nature photographer Bruce Heinemann as well as multilingual cards for international use.
Intuitive and user-friendly, holiday.saveatreecards.com offers both graphical and animated cards for winter holidays and the new year. Businesses can add their personal message, logo, and website link free of charge, regardless of quantity ordered.
SaveATreeCards.com's holiday site has no minimums and no setup charges. Pricing starts at just $195 for one ecard sent to up to 100 recipients—a savings of nearly 60% versus printed cards. All ecards are email-, tablet-, and mobile-compatible. Additionally, every order can be tracked for receipt and viewing, with free proprietary analytics tools, a feature that has made SaveATreeCards.com a favorite of Fortune 500 companies.
The site will be live through January 31, 2015, and will accommodate orders throughout the season. Early ordering is encouraged. Customers purchasing by December 15, 2014, can use code "XMAS15" to receive a 15% discount off their order. All holiday ecard clients are also eligible for discounts on a SaveATreeCards.com subscription to send unlimited ecards for occasions throughout the year. Call 877-237-5310 or email info(at)saveatreecards(dot)com for details.
About SaveATreeCards.com
SaveATreeCards.com is part of the family of products and services created and developed by Logica3 Ltd., a strategic multi-media communications firm based in West Dundee, IL. Its everyday and holiday sites provide cost- and time-saving, environmentally friendly corporate greetings solutions to help businesses grow. SaveATreeCards.com distributes more than 75,000 ecards annually.
For more information, visit http://holiday.saveatreecards.com or Logica3.com, or call 877-237-5310.