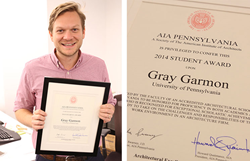 "To be included in an evening where many well-known firms and professionals are being honored was honestly, quite amazing!" - Gray Garmon, Architectural Designer with Array Architects
(PRWEB) December 03, 2014
The AIA PA chapter presented their awards at a Barnes Museum gala November 12, 2014. "To be included in an evening where many well-known firms and professionals are being honored was honestly, quite amazing!" noted Gray. Garmon was nominated by his professors at Penn for his design excellence and outstanding academic standing – Garmon was ranked highest in his graduating class this May, receiving the Henry Adams Medal from the AIA.
At Array, Garmon works with teams of architects, planners and interior designers to create healing environments at hospitals across the country. Currently he is involved in a new hospital complex in Ohio and a Health & Wellness Center in Florida. "The design acumen Gray brings to our team allows us to offer an excellently-rounded group of professionals who work together to provide a healing space to further our clients' mission of keeping their communities healthy," reports Marsha Whitt, AAHID, EDAC, NCIDQ, Principal & Regional Vice President of Array's Dallas office.
Since 1983, Array Architects has been recognized as one of the nation's leaders in the design of healthcare facilities and offers a full complement of knowledge-based services including planning, architecture, interior design and advisory services from our six office locations. Our devotion to a healthcare-exclusive practice springs from our belief in the power of design to improve patient outcomes, maximize operational efficiencies, increase staff satisfaction and provide remarkable results for our clients.