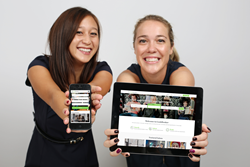 Consumers book everything else online, hair and beauty bookings are the next domino to fall
New York, NY (PRWEB) December 03, 2014
LookBooker– an online platform that allows you to search, compare availabilities and profiles, and instantly book hair and beauty appointments – is launching today, Wednesday December 3rd.
LookBooker was founded by Giorgia Rossi and Renee Robbie, two Australian entrepreneurs who met at management consulting firm McKinsey & Company. The start-up has raised over $USD 1M and launched its operations in Singapore in July, quickly establishing itself as the market leader with over 120 salons on the platform and receiving appointments to date. Not content to settle in Singapore, the team has their eyes set on the US market, and will launch this week with over 50 salon and spa partners in Manhattan's TriBeCa, SoHo, and West Village areas. LookBooker is coming out of the gate strong. Before even going live, the team has achieved a penetration rate of signing one-in-four salons in its launch zipcodes, including some of the country's biggest names in hair and beauty, among them John Allan's and Alibi NYC Salon. LookBooker's launch area is the highest salon density per capita in the country and the team will continue its New York roll out before expanding across the country in 2015.
Online bookings have been a hot space this year, with Priceline's OpenTable acquisition and ZocDoc's booming valuation pointing to strong market appetite for vertical-specific booking players. Online booking for the hair and beauty industry has been heating up too, with the European market leader Wahanda acquiring German player Salonmeister in October. No clear market leader has emerged yet in the US despite several players trying to define compelling value propositions. This is the space LookBooker aims to own.
LookBooker differentiates itself from players like Beautifed and BeautyBooked by offering advanced bookings and targeting mainstream female and male customers; its current user base is over 30% male and branding is gender-neutral. Unlike StyleSeat, which focuses on individual stylists, and GlamSquad, which provides a come-to-you service, LookBooker is orientated around the brick-and-mortar salon, where the majority of hair and beauty services continue to be delivered. The US is home to a whopping 1.3 million salons, twice the number of restaurants, with over 10,000 in NYC alone.
LookBooker's simple mobile responsive interface allows consumers to search, select, and instantly confirm appointments with salons listed on the platform. Consumers can specify the service they are looking for, and when and where they would like to receive it, conducting their search either by location or specific salon or stylist. The service aims to cater to the discovery process of finding a new salon, but also to make the booking process easier for salon's existing customers. LookBooker's technical team is lead by Juergen Specht, the former CTO of Japanese internet giant Rakuten Shashinkan and Singapore's DocDoc.
LookBooker will launch this week with a strong foothold in the country's highest salon density district: head to the site to schedule your holiday grooming!