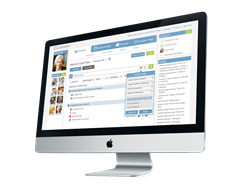 Tampa, FL (PRWEB) December 02, 2014
CareSync has announced the launch of its Chronic Care Management (CCM) solution today. The radical new communication platform combines the easy-to-use CareSync and CareSync Pro applications with proven concierge services to connect providers with patients, their families & caregivers, and other members of the care team to share valuable health information and facilitate care coordination.
More than two-thirds of Medicare beneficiaries have two or more chronic conditions, and account for 93% of the program's costs. Recognizing the impact of chronic disease, the Centers for Medicare and Medicaid Services (CMS) recently announced a new chronic care management code starting in 2015 to reimburse providers for offering non-face-to-face care management to eligible patients.
"While it's been proven that coordinated care results in improved health outcomes and a reduction in costs, the expenses required to do so have not historically been reimbursable. Effective chronic care management has been the exception, not the rule," said Travis Bond, founder & CEO of CareSync. "The new Medicare code provides a reimbursement that will offset the costs associated with coordinating complex chronic care which will benefit millions of people each year."
The newest addition to the care coordination platform employs the CareSync Plus concierge service that creates up-to-date and comprehensive Care Plans, schedules appointments, collects medical records, and enters discrete data to create meaningful reports. CareSync Pro uses these resources to increase patient and provider confidence and to drive the role of the patient as the central source of data.
The patient's ability to access, manage and share information anytime, from anywhere, reduces duplication of services, boosts satisfaction, increases engagement, and leads to improved health outcomes.
Health Assistants are available 24/7 online and by telephone to assist patients with care coordination tasks including medication monitoring and appointment scheduling. CareSync creates regular reports for providers, including all of the documentation required for Medicare reimbursement.
To learn more about CareSync CCM, visit http://caresync.com/ccm or call 800.587.5227. For a demonstration of CareSync's CCM solution, please email sales(at)caresync.com.
About CareSync
CareSync connects users and data to redefine the patient's role and create a better healthcare experience for everyone. Health Assistants collect all the user's medical records from all the providers to build a comprehensive Health Timeline™. Users, their families, and their care teams access, filter, and share health information with an easy-to-use Web, iPhone, and Android application. The app includes useful tools for visit planning, task management, medication adherence, vitals tracking, and syncing with wearable devices.
CareSync Pro provides a communication layer that for the first time connects healthcare providers with members, their families, and their caregivers to share valuable health information and facilitate continuity and care coordination.
To learn more about CareSync, visit http://caresync.com, call 800.587.5227, or follow us on Twitter, @CareSync.