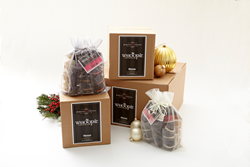 According to Chococoa owners, the husband and wife team of Julie Ganong and Alan Mons, "We are receiving calls everyday from people around the country who are tired of giving the same gifts year after year. This New England classic has really piqued the
Newburyport, MA (PRWEB) December 03, 2014
Chococoa Baking Company's The Whoopie, recently featured in the Wall Street Journal, now offers the perfect solution for last minute gift, or business gift giving needs - just in time for the holidays! Starting at the affordable price of $34 plus shipping, Chococoa will build custom gift packages of delectable baked holiday treats to deliver fresh as early as the next day to that special friend, hard-to-buy for family member, or special business client.
Baked goods and chocolate are among this years' top list of food gifts for the holiday season according to new consumer research from the Specialty Food Association. Chococoa Baking is right on trend with smart packaging and ability to ship nationwide.
According to Chococoa owners, the husband and wife team of Julie Ganong and Alan Mons, "Calls are coming in everyday from around the country, from those tired of giving the same gifts year after year. This New England classic has piqued the interest of people wanting to give that unique gift - and there's something for everyone! Whether it's a small gift for that special client, or a treat for the whole staff everyone loves receiving a fresh, home-baked delicious assortment of Whoopies!"
Even Oprah's gal pal Gayle King loves Chococoa's bite-size twist on the classic whoopie pie and featured them as one of her favorite things in O, The Oprah Magazine.
Chococoa Baking Company's updated version of the traditional whoopie pie is a three bites big, richer tasting gourmet cake made with all-natural ingredients and a blend of three premium kinds of chocolate and fresh buttercream. The Whoopie has no preservatives, or artificial ingredients, no trans fats and approximately 130 calories. Whoopie flavors include the "classic" - chocolate with vanilla cream filling, chocolate/espresso cream, chocolate/raspberry, chocolate/ganache, chocolate/salted caramel, pumpkin/ginger and the seasonal favorite chocolate with peppermint. Gluten-free is also available.
This year, holiday gift giving can stands out by sending The Whoopie Preferred Gift Package which comes in three packaging options. Chococoa will include a gift note card with a personal holiday message in the gift packs. Selections include:
Gift Option 1: for $34-$45 plus shipping, offers 4-6 packages of The Whoopies in a choice of flavors. Price includes packaging and ice to ensure freshness;
Gift Option 2: for $56-$88 plus shipping, offers 8-12 packages of The Whoopies in a choice of flavors.; and
Gift Option 3: for $130-$174 plus shipping offers 16-24 packages of The Whoopies in a choice of flavors.
Discounts of are offered on orders starting at $500. Orders must be placed by Monday, December 22 outside of New England and Tuesday, December 23rd with New England to guarantee arrival of shipment by December 24th.
About The Whoopie:
Chococoa Baking Company's creation, The Whoopie, is a dessert for appreciating fine deep chocolate flavor with exquisite fillings, not too sweet. It's Chococoa's extreme attention to detail, hand mixing, testing and development with high quality ingredients that make The Whoopie the finest in "eat-ability." The Whoopie is now the luxurious food gift to give and receive.
About Chococoa Baking Company:
Chococoa Baking Company was founded in 2009 by husband and wife team, Alan Mons and Julie Ganong. Julie grew up in Maine making whoopie pies with her mother and grandmother and Alan's lifelong dream has been to develop a food product like none other. After the couple were both downsized from the financial services industry they put their unique whoopie pie recipe to work, eventually opening Chococoa in a small shop in scenic Newburyport, Massachusetts. After less than 3 years, demands for The Whoopie got to the point where their small kitchen couldn't keep up. When space became available in Newburyport's retail district "The Tannery," Alan and Julie expanded their operations and the orders have kept rolling in.
For more information go to http://chococoabaking.com or call The Chococoa Baking Company at 978-499-8889.