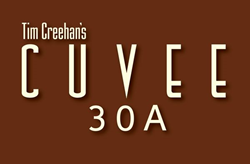 Rosemary Beach, Florida (PRWEB) December 02, 2014
Local celebrity Chef Tim Creehan will open the sister restaurant to Cuvee Bistro in South Walton Beach on March 15th, 2015. Cuvee 30A will bring the same dining experience of the Destin location to the community of South Walton. It will open its doors in the new upscale shopping center 30Avenue located at the corner of Highway 98 and Scenic Highway 30A at Inlet Beach. This new village shopping center is within biking distance to Seaside and Seagrove Beach and a short walk to Rosemary and Alys Beach.
Cuvee Bistro was reestablished in 2010 by Chef Tim Creehan. Cuvee's menu is inspired by classic French, Asian, and Mediterranean flavors along with signature dishes created for celebrities and served to all. Cuvee Bistro has a list of awards including: TripAdvisor's Certificate of Excellence, Best in Destin, Finest on the Emerald Coast, Florida Trend's Golden Spoon Award, and the Wine Spectator Awards of Excellence.
Creehan will feature the same signature dishes at the 30A location including Amy Grant's Seared Tuna and Vince Gill's Pecan Crusted Grouper, along with Chef Damiano's authentic Italian Cuisine. Popular events at the Destin location will also be included at the 30A location such as their "Best in Destin" voted Happy Hour from 5pm-8pm; as well as live music from local talent throughout the week. Destin location wines from the list that has won the Wine Spectator Award of Excellence from 2010 through 2014 will be poured at the location in 30Avenue.
30Avenue is a new shopping center for 30A's upscale east end. 30Avenue will provide professional offices to business men and women of 30A. Several restaurants and prosperous retail merchants will serve locals and guests of 30A's many beach towns such as Seaside, Seagrove Beach, Rosemary Beach, and Alys Beach. Creehan himself is excited about the new development and describes it as "nothing short of perfect, we're excited to be a part of both the 30Avenue family and the 30A neighborhood."
About Garrett Realty Services, Inc.
Garrett Realty Services, Inc. is a Property Management and Real Estate Sales company serving the South Walton Beach Area since 1987. With over 50 years of experience and over 300 properties, Garrett Realty provides a variety of accommodations including 30A area and Seagrove Beach rentals.